◤FIFA World Cup in Qatar◢ Bayern Munich's former German international legendary defender Markus Babbel slams Kevin De Bryune's attitude following Belgium's group stage exit..
2022-12-02 17:38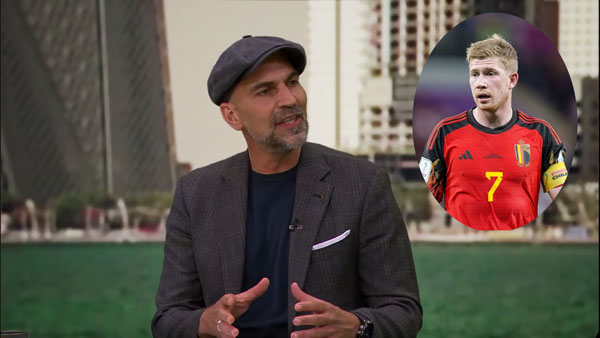 Bayern Munich's former Germany international star Markus Babbel did not hesitate to criticize midfielder Kevin De Bruyne's attitude throughout the tournament following Belgium's 0-0 draw with Croatia at the 2022 FIFA World Cup in Qatar, the attitude shown by the player was atrocious.
Babbel made the criticism when he was a guest pundit for the game on Malaysian satellite pay TV station ASTRO SuperSport on Thursday night.
Babbel first used his own coaching experience to defend that there is nothing wrong with former head coach Roberto Martínez chose his most trusted players to start with team success as a priority behind the decisions he had made.
He first said: "This is a very difficult thing to strike a balance. When you have worked with this group of players for many years, you will have a strong relationship with them. As a player, the most difficult thing is, when you have given your all and given your best, only to be told "Hey! You can only sit on the bench now because I have a younger player who is doing better", which is undoubtedly very difficult to accept. But it is a manager's responsibility, he has to make such a decision."
"As a manager, you're hired to make the tough decisions and I'm personally a fan of playing the players who have performed better and deserved to play more, no matter what other big names you have."
"Of course, when a key player is not performing so well in one or two games, I will not replace him, because I know that he can still deliver a great performance later on. But when I see something I feel may disgust others in him, of course I had to make some decisions. But he (Martínez) still thinks that's his strongest lineup."
"The reason why he chose this team to play is because he deeply believes in the ability of these players, and for those younger players, they have performed well at the club level, but when it comes to the national team, they are very good in bringing with them the right attitude that if I'm given the opportunity, I'm going to do my best, but if I can't do that, I can't play."
Later, when he was asked by Tottenham Hotspur's England and Brazil former international goalkeeper Paul Robinson and Heurelio Gomes respectively, that if he was in Martínez's position, would he consider removing Kevin De Bruyne, Babbel said categorically that he would definitely do this, because he couldn't stand the kind of laziness shown by the player throughout this edition of World Cup but loved to complain about his teammates, making the locker room atmosphere toxic.
Babbel added: "I would definitely remove De Bruyne. Although he is a world-class player, because I only want a group of players that really want to play for Belgium to achieve glory. And I didn't see that from him up to this point."
"I saw the disgusted face he put on a few times on TV. He looked very lazy and absent-minded. I knew his mentality was that he had surrendered without fighting. Against Morocco he was like this, even (Eden) Hazard in his current state, his attitude is several times better than him, but he can only be placed on the bench. It's confusing."
"Yes, he didn't play very well, but he tried to contribute. But as far as Kevin De Bruyne was concerned, he was disastrous against Canada and he was terrible against Morocco too now. His mouth is his own, he thinks he can say whatever he wants, and with that attitude, he's still in the starting XI, I can't accept that."
De Bruyne, who is currently playing for the defending Premier League champion Manchester City, has been criticized many times for his attitude since the start of the 2022 FIFA World Cup in Qatar. A few days ago, many authoritative media outlets from various European countries broke the news that the players in the Belgian team fell out in this World Cup because of someone's excessive complaints. Later, after a detailed investigation by Sky Sports, it confirmed that the culprit who had caused a lot of problems is De Bruyne.
The media also broke the news that the Royal Belgian Football Association had recently sent personnel to Qatar for closed-door questioning, and found that there were indeed conflicts in the locker room in the team, with the Manchester City's assists king midfielder being the main problem.