◤FIFA World Cup in Qatar◢ Emiliano Martínez asks Louis Van Gaal to 'keep his mouth shut' following Argentina's triumphant victory over Netherlands in the quarter-finals penalty shootout..
2022-12-10 14:39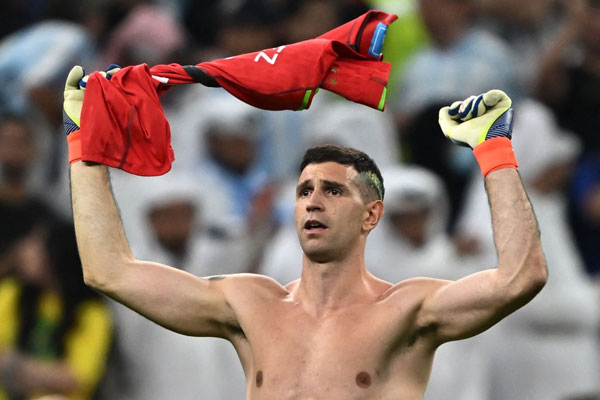 Argentina's main goalkeeper Emiliano Martínez was not shy about taking a swipe at opposing head coach Louis van Gaal in a post-match interview following his country's penalty shootout win over the Netherlands at the 2022 FIFA World Cup in Qatar.
Martínez asked Louis van Gaal to be responsible for his previous remarks, be cautious in his future speeches, and not forgetting to poke fun at him by telling the other party not to speak too arrogantly in an interview with Qatari media BeIN Sports.
Martínez said: "I saw Van Gaal's remarks, he said that as long as we (Netherlands) can drag on to penalties, we surely can rely on this advantage to a win. I think he should shut his big mouth. "
In fact, the rivalry between the two originated from Van Gaal's arrogant remarks at his pre-match press conference a few days ago, where Van Gaal clamed that his opponents Argentina, who they will face in the quarter-finals knockout match, will be useless without the help of Leo Messi, claimed that he is the best coach, and said that he would definitely defeat his opponents with an all-out-attack approach.
And Martínez is not the only player in the Argentina squad who had a bad relationship with Van Gaal after their 2022 FIFA World Cup in Qatar match. Messi, who was ridiculed by the other party, also did not shy away from cursing him in the post-match interview and even almost hit the 71-year-old renowned head coach. Likewise, Ángel Di María, who had previously worked with Van Gaal at Manchester United, also once again criticized the party as the worst coach he had ever met in his career.