◤FIFA World Cup in Qatar◢ FIFA opened disciplinary proceedings against Argentina and Netherlands following their quarter-finals match..
2022-12-11 19:37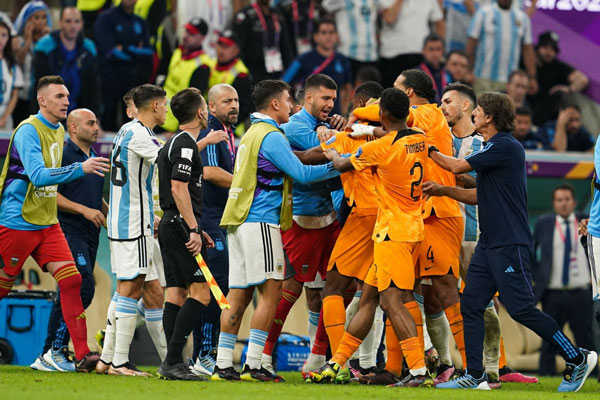 FIFA announced on its official website on Saturday night that they have launched procedures to investigate the collective violations of disciplinary actions between Argentina and the Netherlands in the nations' quarter-finals match of the 2022 FIFA World Cup in Qatar.
According to FIFA's official statement, the authorities had to investigate the two teams as they considered that the both sides had severely violated the order and security code of the match.
Based on the reports made by many media around the world, because the Argentina national team has the most players, coaches and team officials who violated disciplinary actions, hence La Albiceleste are likely to be severely punished by FIFA.
The worst outcome is that the team's most important offensive and defensive stars, Leo Messi and Emiliano Martínez, were both banned from the semi-final match, and this ban may also include this edition's final.
In fact, the media has long reported the bad news that players and coaches of both teams were dissatisfied with each other and conflicts broke out after the game. The most exaggerated one is that Messi and the Netherlands national team head coach Louis van Gaal almost fought.
Emiliano Martínez was no better. The goalkeeper who plays for Aston Villa, not only bombarded Van Gaal, but also openly called the Spanish match referee Antonio Mateu Lahoz as "useless".
At the same time, Netherland's midfielder, Frenkie De Jong who publicly alleged that his former Barcelona teammate Messi is the one who influenced Lahoz's officiating of this match, is also expected to be sanctioned.
According to FIFA's post-match report, Lahoz has issued a total of 18 yellow cards and 1 red card in this match. Both sides also broke out in conflicts and pushed each other, which mades the degree of the bad blood between them hard to be described.
FIFA has always taken a zero-tolerance stance towards teams who violates disciplinary actions. This practice, which is regarded as provoking the authority of the referees, has always been strictly investigated and dealt with by the Ethics and Disciplinary Committee of the governing body. Once convicted, FIFA has the right to fine the Netherlands national team 15,000 Swiss francs, and the Argentina national team, which has committed more serious offences, may have to pay a heavy fine which is double that amount.