◤FIFA World Cup in Qatar◢ Germany sacked technical director Oliver Bierhoff after consecutive knockouts at group stage..
2022-12-06 14:14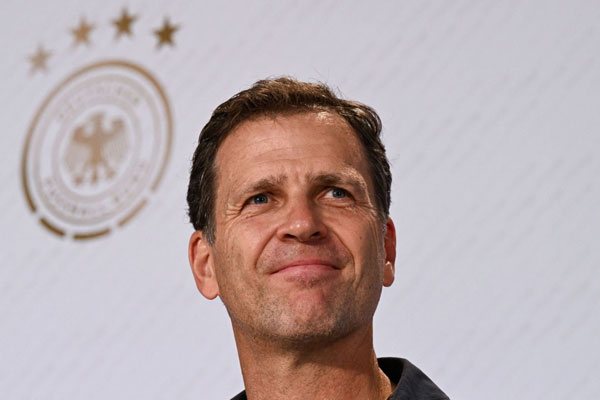 Germany Football Association announced on its official website on Monday that national team technical director Oliver Bierhoff has been sacked immediately.
After the news of his dismissal was confirmed, Bierhoff wrote through the official website of the Germany Football Association that: "After 18 years in charge of the Germany Football Association (DFB), I will immediately step down from my all my posts from the national team. I have reached an agreement today with the DFB President Bernd Neuendorf that I will make way for them to make new appointment."
"It's been an exciting and meaningful time, during which I've celebrated great successes with everyone and have gone through and dealt with difficulties together. My work has always been prioritizing on a team effort and I want to thank everyone who has supported my work and I am so proud of what our team has achieved together."
"My job has always been to help the DFB and the national team do their best, but the performances of the national team in the World Cup in Russia and Qatar hurt me, and that's why I left with a sense of self-blame. In the past 4 years, we have not been able to build on what we have achieved and to give our fans another reason to celebrate over the past two years. I wish the DFB and the Germany national team every success in the future and hope that you will be successful again at EURO 2024."
The 54-year-old Bierhoff joined the Germany national team setup in 2004 as the director of the communications department and held this position until December 2017 before being transferred to the role of technical director, and at the same time took charge of the same position with the youth team training center.
As a technical director, under the guidance of Bierhoff, the Germany Football Association established and moved to a state of the art new officie and training center that integrates the senior and youth national teams, as well as a training center in Frankfurt in 2015.
However, since Germany failed to escape the fate of being knocked out at the group stage in the 2018 FIFA World Cup in Russia and the 2022 FIFA World Cup in Qatar, this eventually became the fate of Bierhoff's dismissal.
It is worth mentioning that the country's former Bayern Munich and Liverpool international legendary defender Markus Babbel also complained that perhaps Die Mannschaaft needs to consider letting Bierhoff step down to solve the stale performance of the national team when he when he was a guest punfit on the Malaysian satellite pay TV station ASTRO SuperSport. Unexpectedly, the lingering words eventually came true, and the collaborative relationship between Bierhoff and Germany came to an end for real as a result.