◤FIFA World Cup in Qatar◢ Spain sacked Luis Enrique and appoints U21s head coach Luis de la Fuente as successor following shock Round of 16s exit at the hands of Morocco..
2022-12-09 15:57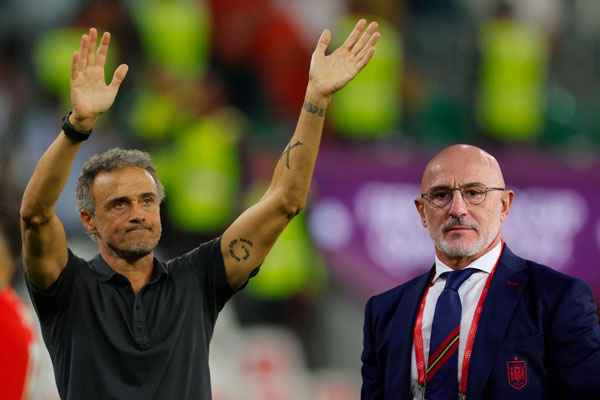 The Royal Spanish Football Federation (RFEF) announced on its official website on Thursday that the country's national team head coach Luis Enrique has been sacked immediately, with their U21 national team head coach Luis de la Fuente appointed as successor to take over as the senior national team head coach.
According to the official statement of the RFEF, Luis de la Fuente was selected under the strong recommendation of RFEF's sporting director José Francisco Molina to its President, Luis Rubiales as the best candidate to become the successor of the head coach of the Spain senior national team. De La Fuente will hold a grand presentation press conference at 12:30 noon on December 12, local time. He will also make his coaching debut in Spain's Euro 2024 qualifiers match against Germany next March.
In fact, as early as Spain's upset loss to Morocco in the round of 16 knockout stage of the 2022 FIFA World Cup in Qatar, calls for Luis Enrique to be sacked has become hotted.
Among them, many pundits, including resident presenter of popular British YouTube professional football channel Football Daily, Patrick van Straaten as well as former Liverpool legendary Spanish defender José Enrique, commented that Enrique is the biggest's failure is that he had refused to call-up two experienced world-class players in the form of Sergio Ramos and Thiago, into the 2022 FIFA World Cup in Qatar squad, and overestimated his judgment ability.
The 52-year-old Luis Enrique previously gained widespread popularity in the coaching world for being the head coach of FC Barcelona between 2014 and 2017 and becoming the club's most successful head coach after Pep Guardiola.
Enrique took over as the head coach of Spain national team in July 2018. During this period, he briefly left the job for 4 months in 2019 due to family reasons.
However, in recent years, Enrique has attracted many criticisms for deliberately marginalizing Real Madrid stars and Liverpool midfielder Thiago, as well as deliberately emphsizing players from his former club Barcelona.
The 61-year-old De La Fuente was a legendary left-back of Athletic Bilbao during his playing career. After retiring, he coached the club's reserve team in the mid-2000s. He also became the head coach of the Spain U21s national team in July 2018 just like the former.
Since being in charge, De La Fuente has led the team to win the U21s Euro in 2019, and also led the Spanish men's national Olympic team to the final and won the silver medal at the 2020 Tokyo Olympics last year.