◤FIFA World Cup in Qatar◢ U.S.-Qatar sparks foreign diplomatic affair crisis after ill American sports journalist Grant Wahl suddenly passed away while making live coverage..
2022-12-10 16:34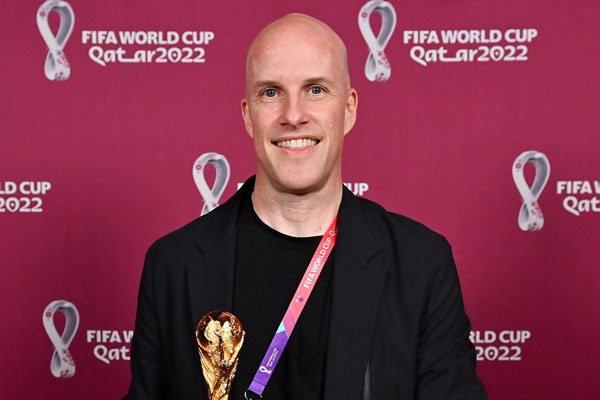 The Australian branch Sky Sports and ESPN coincidentally reported the sad news at noon on Saturday (October 12) Asian time that renowned American sports journalist of CBS Sports, Grant Wahl died suddenly at the age of 48 while making an on-pitch live coverage of the 2022 FIFA World Cup in Qatar.
According to reports, when Wahl was reporting live on Friday for the quarter-final match between Argentina and the Netherlands, he suddenly felt unwell and fell into a coma during the extra time period. Fellow reporters present at the scene immediately contacted medical personnel and ambulance quickly arrived soon, but unfortunately, when the reporters contacted the hospital again to inquire about Wahl's condition later, they were told that he had unfortunately passed away suddenly.
In addition, ESPN also pointed out that Wahl recently wrote on his blog that after arriving in Qatar, he felt some difficulty in breathing due to heavy workload and had been having insomnia for 3 weeks. He was diagnosed with acute bronchitis by a local doctor. He also said that after taking the cough syrup and antibiotic pills prescribed by the doctor, his symptoms seemed to have got better, but this was only a way to relieve the symptoms and not the root cause of his illness.
It is worth mentioning that Wahl was originally opposed to Qatar hosting the World Cup, and he has visited the country many times to interview and speak out for the human rights issues of local foreign labours. At the same time, he has a gay brother. On November 22 last month, he was detained by Qatari law enforcement officers when he entered the Ahmed bin Ali Stadium for a live coverage of the Group B group stage match between the United States and Wales because he was wearing a plain black T-shirt with a rainbow printed on it. As his death was too sudden, thus it soon attracted great attention from the media and the government in the United States to investigate whether his death was involved with any political factors.
Wahl's gay brother subsequently tearfully said in a video interview with CBS Sports after the news of his death broke that: "I'm Eric Wahl, I'm Grant Wahl's brother, I'm gay."
"I was the reason why he chose to wear a rainbow shirt to the 2022 FIFA World Cup in Qatar. My brother was always healthy and he told me that he had received a lot of death threats. I don't accept that my brother had just died like that. I believe he was murdered. I implore everyone to help us find out the real cause of my brother's death."
Later, his friend, Fabrizio Romano, the renowned Italian transfer journalist of Sky Sports and the United States Football Association, also posted an orbituary saying that they couldn't believe Wahl's sudden death, and mourned that they felt heartbroken and deeply saddened.
In addition, Ned Price, an official spokesman for the U.S. State Department, also issued a statement on behalf of the U.S. government saying that: "Our country is deeply saddened by the news of Grant Wahl's sudden passing, and we extend our condolences to his family. We will always be with them and stay in close contact."
However, because the situation is serious and involves foreign diplomatic affair issues, Price also mentioned in the statement that due to the incident's tension, which involves the foreign diplomatic political situation between the two countries, the U.S. State Department has asked the Qatari Ministry of Foreign Affairs to maintain close contact with them and give the whole case a detailed investigation and make an explanation of the incident, so that Wahl's family members can get a satisfactory answer and have their wishes fulfilled.