Belgium international Hazard announces his withdrawal from the national team
2022-12-08 08:10
In the 2018 World Cup in Russia, Belgium performed well and won the third place. However, this year's World Cup in Qatar , Belgium is not as good as in previous years, directly out of the group stage, the Belgian captain Eden Hazard issued a post announcing that he will end his national team career.
According to foreign media reports, the 31-year-old Hazard represented the national team at the age of 17 and played for the country in the 2014, 2018 and 2022 World Cups and the 2016 and 2021 European Cups. In the 2018 World Cup, in addition to leading the team to win the third place for Belgium, he also won the World Cup Silver Ball Award. Hazard played a total of 126 games for the national team and scored 33 goals.
In this year's World Cup in Qatar, Belgium had 1 win, 1 draw and 1 loss. Their performance was terrible, and most of the players are veterans over the age of 30, so they may be physically overwhelmed.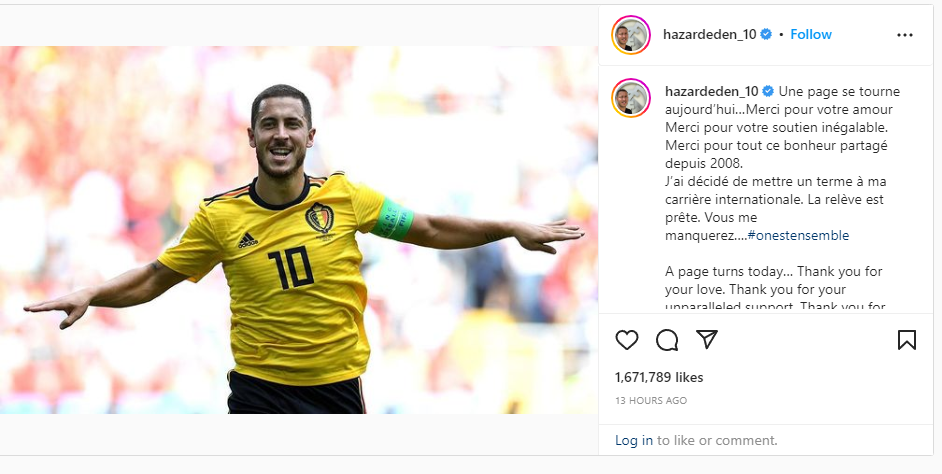 Now Hazard has decided to step down from the national team, saying goodbye on social media: "Today will start a new chapter... Thank you for your love and support. Thank you for bringing me happiness from 2008, I have decided Ending my national team career. The young players to take over are ready and I will miss you all."
Belgian players also left messages under Hazard's post, wishing him all the best. Forward Batshuayi praised Hazard as a "legend", and goalkeeper Simon also left a message to add: "Thank you for all these wonderful moments, Eden."
The Belgian national team officially released a poster of Hazard to thank and pay tribute to Hazard for all his efforts in the national team.