Borussia Dortmund and England international midfielder Jude Bellingham reportedly has his heart set on a 'very very close' move to Liverpool..
2022-12-09 18:31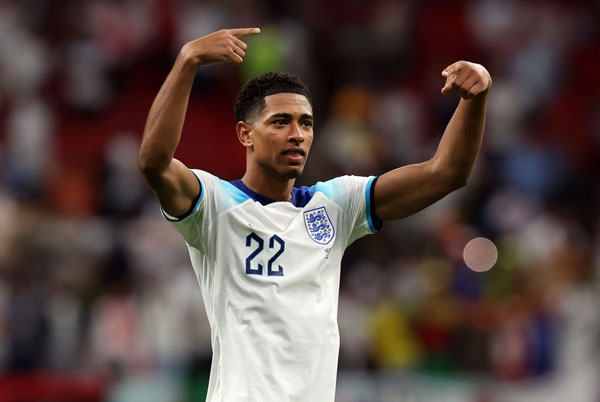 German outlet BILD's renowned resident transfer journalist of the country, Christian Falk revealed through his official Twitter account on Thursday that Borussia Dortmund and England wonderkid international midfielder Jude Bellingham and his family has informed parties involved that he is determined to return to England and join Liverpool.
Falk revealed that although Real Madrid has had a very advanced negotiations with Dortmund, as their son's agents, Bellingham's parents have clearly informed the other party that their family has decided to choose Liverpool as the next club, and Bellingham is very close to switching to the Reds.
Falk also revealed that although the online rumours which speculated that Bellingham has submitted a transfer request to the Bundesliga powerhouse are not true, it is certain that Bellingham will leave the club next summer, and the speed of the transfer will be concluded just as the astonishing speed which will be no less than the speed that his former teammate, Norwegian international center forward Erling Håland did when he joined Manchester City this summer.
In addition, Falk also said that whether he can play in European competitions or whether he can receive a high salary are not the primary considerations for Bellingham himself and his family upon this transfer. He is only willing to go to a club that is destined to emphasize and treat him as an absolute key player for a long time, hence they had rejected the La Liga, Champions League, UEFA Super Cup and Club World Cup quadruple defending champions, and Liverpool has naturally became his preferred choice.
Despite this, Falk still said that, the Premier League giants must next reach an agreement with Dortmund on Bellingham's worth and transfer fee, and in terms of his current performances in the 2022 FIFA World Cup in Qatar, BVB might increase his value to more than €150million.
In fact, the fact there has already been signs which showed that Bellingham has been determined to transfer to Liverpool.
Recently, he has been interacting with the Reds captain, Jordan Henderson very frequently. He was inadvertently heckled to join Real Madrid, after they went out with yet another Liverpool wonderkid Trent Alexander-Arnold after representing the England national team in the round of 16 knockout match against Senegal in the 2022 FIFA World Cup in Qatar while being spotted by local fans, during which, all three of them gave a very awkward but polite laugh at the same time.
Bellingham, who is only 19 years old, joined Borussia Dortmund in the summer of 2020 and quickly earned the plaudits of fans, media and pundits around the world with his superb performances. Even the three legendary England midfielders Steven Gerrard, Frank Lampard and David Beckham have all made no secret of their fondness for this talented genius.
During this edition of the 2022 FIFA World Cup in Qatar, Bellingham has represented England 4 times, scoring 1 goal and assisted 1 time. He is one of the most dazzling stars in the Three Lions team.