Brighton's Zambia international midfielder Enock Mwepu forced to retire aged just 24 due to genetic heart problems..
2022-10-11 12:28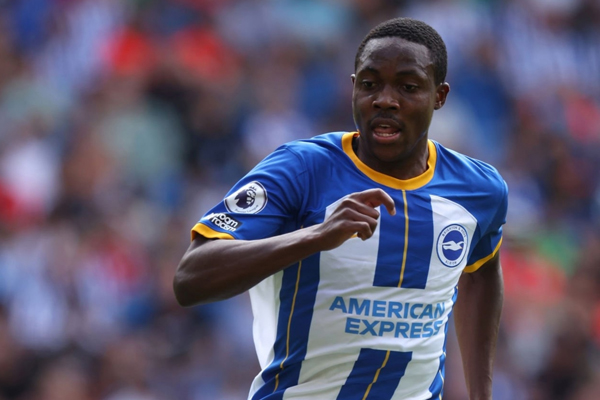 Brighton announced the sad news on their official website on Monday that the club's 24-year-old Zambia international midfielder Enock Mwepu was forced to retire after suffering a genetic heart problems.
According to Brighton's official statement, Mwepu was forced to make the decision to retire after consultation and advice from professional doctors. Doctors explained to Mwepu that his condition would worsen over time and that if he insisted on continuing his career as a professional footballer, Mwepu would be at extremely high risk of a fatal heart attack.
Planning to stay in football in another way
After the news of his forced retirement was officially announced, Mwepu did not forget to express his gratitude to the fans through Brighton's official website, he emotionally said: "The boy from a Canbishi small town in Zambia, has some news to tell you, it was about the boy who bravely pursued his dream of becoming a footballer at the highest level, and by the grace of God, he has fulfilled his dream and came to the Premier League."
"However, some dreams are about to be dashed, so it is with great sadness that I announce that due to medical advice, I have had to hang up my boots. However, this does not mean that my football journey has come to an end, and I hope to continue to be active in football in a different way."
"I would like to take this opportunity to thank everyone who has supported me throughout my footballing career, including my wife and family, my agent team of 12 MAN, the Zambian FA, all the former clubs I have played for, teammates and coaches, and especially to everyone at Brighton, Enock "Computer" Mwepu."
Greetings and farewell from a friend
After learning that Mwepu was forced to retire, his friend Daka also sent a message to bless the former through his personal official social media account. Daka wrote: "My best friend and brother, we started our careers together, Came to England at the same time and now I am saddened to know that we cannot continue to play together."
"But as captain of our national team, as you said, nothing, including football, is more important than your health and your family. We, like God, have different plans for our lives, but our plan can never be better than what God has done."
"I hereby wish you all the best for your future and look forward to your continued contribution to Zambian football in a new way."
Getting famous in Austria
Mwepu came through the youth academy of the National Pension Scheme Authority (NAPSA) Stars and the Kafue Celtic of Zambian Super League. During his time with the latter, Mwep met and became friends with his compatriot, centre-forward Patson Daka who is currently playing for Leicester City.
In the summer of 2017, the two moved to Austria to join Red Bull Salzburg for a total of €7.9million. At first, both of them were first arranged to hone in the club's Austrian First League feeder club FC Liefering, and it was not until the winter of 2018 that they were officially integrated into the Red Bull Salzburg first team.
In the summer of 2019, Mwepu, who officially became the key player of the Red Bull Salzburg first team, won 4 consecutive Austrian Bundesliga and 3 Austrian Cup titles in a row for the club in 4 years.
In July 2021, Mwepu joined Brighton for €23million. A month later, he began assisting his teammates to help the club become better and better, including a 25-yard wonderstrike which he had scored against Liverpool in October of the same year, which left many unforgettable.
However since February this year, Mwepu, who has strained his hamstrings and has been suffering from constant illnesses, has been forced to recuperate since April. It was not until the penultimate game of last season that he played against West Ham United as a substitute.
This season, Mwepu, who is still suffering from illness, has only played 6 times in all competitions, and most of them are subsitute appearances from the bench. The last game of his playing career was the Seagull's 5-2 victory against Leicester City last month, during which he also assisted Moisés Caicedo that day.
In total, Mwepu played 27 times for the club in all competitions during his one year in Brighton, scoring 3 goals and providing 7 assists.
At the international level, Mwepu and Daka both began to play for the Zambia senior national team in 2017, during which Mwepu also scored his first goal for the senior national team in the African Cup of Nations qualifying match against Algeria in September of the same year. At the same time, he also helped the Zambia U20 national team win the U20 African Cup of Nations in 2017.