FIFA World Cup Qatar 2022 - Full support for Messi and Maradona
2022-12-04 11:37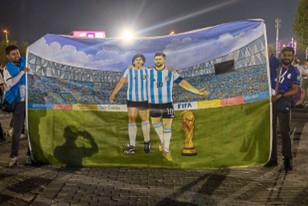 Mosit en route to Argentina's decisive game against Poland and ayush verma with their heroes lionel messi and Huge paintings of Diego Maradona and the World Cup trophy approach the stadium .
Mohit spent 17 days painting it. It weighs five kilograms. A devotion to doing everything for Messi , who he described as " God " . " He was the epitome of everything. He was a source of inspiration and joy, " said Mohit, from Kolkata, India.
Argentina found a legion of passionate superfans from India, Bangladesh and other Asian nations at the World Cup in Qatar. Thousands have traveled specifically to the Gulf country to see Messi and his teams first-hand, while many others are migrant workers who make up about 90 percent of the UAE's three million population .
In Indonesia, social media showed hundreds of people celebrating Argentina's 2-0 win over Poland after watching the game on big screens . They were paraded on motorbikes waving flags after Argentina advanced to the knockout stage.
support argentina
Outside the 974 Stadium, Argentine fans were still scrambling to find any spare tickets to watch the game. The 44,000-capacity stadium is undersupplied .
Argentina has a huge following in Bangladesh since the days of Maradona, one of the greatest footballers and an icon to fans all over the world .
Cricket kings Bangladesh, India and Pakistan have never played in a World Cup. So when the game arrives, many football fans usually support Argentina or Brazil, the soccer powerhouse revered for its attacking style and long list of international stars, including Lionel Messi, Maradona and Pele.
Fans who came all the way from Argentina to support the Qatari team were delighted by the support from non-Argentines.
The Argentine Football Federation praised the Bangladeshi 's support on social media. " Thank you for supporting our team. You are as crazy as we are! " The federation said on Twitter that photos showed Bangladeshi fans wearing Argentina's sky blue and white jerseys. "