Football news - Alvarez says he was impulsive, apologizes to Messi after threats
2022-12-01 15:45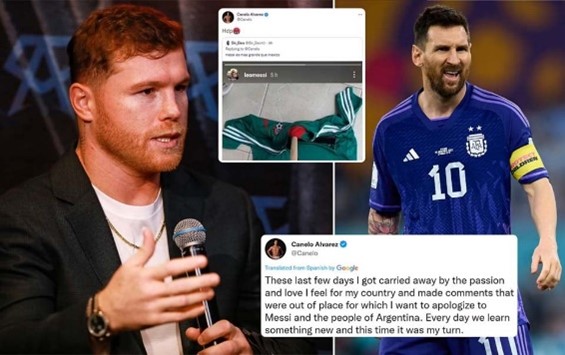 Mexican boxer Canelo Alvarez has apologized for publicly threatening Lionel Messi after expressing his displeasure over a dressing room video that appeared to show the Argentina striker nudging a Mexico jersey on the floor with his foot .
Lionel Messi scored in Argentina's 2-0 win over Mexico and Alvarez, who has 2.2 million followers on Twitter, said the striker " should be praying to God I can't find him " as he commented on the video feel angry.
On Wednesday, however, Alvarez took to Twitter to say he had gone too far and apologized to Messi and the Argentine people.
" In recent days I have been carried away by my passion and love for my country and I have made inappropriate comments," Alvarez said. " So I want to apologize to Messi and the people of Argentina. "
Messi, 35 , has yet to comment on Alvarez's remarks, but Mexico captain Andres Guardado defended the striker, saying the video did not show anything unusual.
to be observed
Guadrado, considered a "victim" of Messi's disrespect, weighed in, calling the debate "stupid" and defending the Argentina captain and criticizing Canelo's behaviour.
Even Javier Hernandez (Mexico's all-time leading goalscorer) had his say, jokingly vowing to defend Aguero with his life .
The pair went on to clash, with Aguero claiming the boxer had earned " the hate of all Argentines " while Canelo before finally apologizing A WhatsApp audio message was sent to the striker .
Neither Aguero nor Messi responded to Canelo's apology, and it remains to be seen whether the boxer's words will be heard.