Football News - Kelantan football legend Hashim dies
2022-12-01 15:41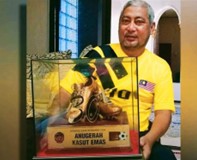 Mohammad Hashim Mustafa, the former Malaysian League Golden Boot winner in 1990, 1993 and 1994, passed away on Tuesday at the University Sains Malaysia Hospital (HUSM) in Kupang Kerang.
Mohammad Nizab Ayub , the son-in-law of the former prolific striker from Kelantan, said his father-in-law, who was being treated in hospital, died at 10.25pm due to complications from diabetes .
" Father (Mohd Hashim) passed away in the presence of his family at the HUSM ICU in Kupang Kerang, " he said when contacted by Bernama.
Hashim, 57 , had been sedated earlier in his critical condition.
Hashim had his left leg amputated last October after years of diabetes.
Early career and achievements
Hashem Mustafa was born on January 31, 1966. He was first called up by Kelantan for the King's Gold Cup in 1982. He was still in school then. Hashim's outstanding performance earned him a contract from the Kelantan home team.
Due to the extraordinary talents of Hashem Mustafa , in 1983, he was granted a one-year sabbatical at the request of Kelantan as he needed to focus on his SPM.
Hashem also lifted the FA Cup in 1996 and won Premier League 2 with Kedah and Johor in 1999, in addition to wearing JKR and TNB Kelantan club jerseys .
The number 10 jersey fan was also an assistant coach for Kelantan from 2010 to 2015 and helped them win the Malaysia Cup twice in 2010 and 2012 .