Former Portugal U21s international defensive midfielder completes contract extension with Sporting Clube de Portugal..
2023-05-28 17:47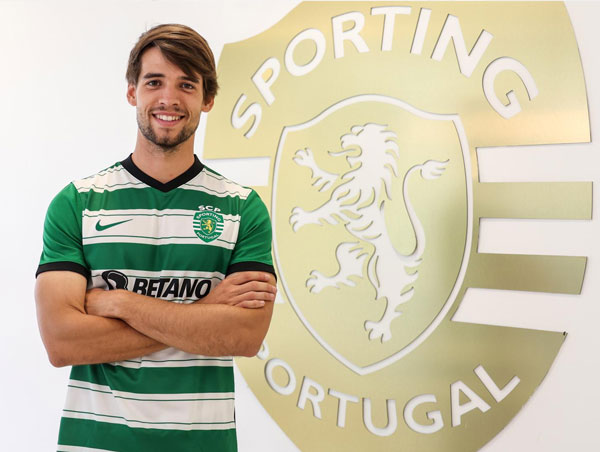 Sporting Clube de Portugal announced on its official website on Saturday that the club has completed the contract extension with former Portugal U21s international defensive midfielder Daniel Bragança.
According to Sporting Clube de Portugal's official statement, Bragança has signed on a new long-term four-year deal with the club which would run until the summer of 2027.
After completing his contract renewal procedures, Bragança, who was interviewed by the Sporting Clube de Portugal official website again said: "After being out for some time, I am very grateful to Sporting Clube de Portugal's trusts in me. It's a feeling of immense pride to be able to renew your contract with the club which you dearly love. It hasn't been an easy year for me, and I'll now place that mutual trust on my shoulders as another motivator for the challenges which I'll face in the coming years. I've been here for a number of years and sticking to your position and do your best is part of working at a club of this size, it's been part of my DNA."
Bragança, who is only 23 years old, was born in Almerím, Portugal on May 27, 1999. He is 1.69 meters tall and primarily plays as a defensive midfielder, but he is also capable of playing as an attacking midfielder.
Bragança joined the Sporting Clube de Portugal youth academy when he was 8 years old, and was later promoted to the first-team in the summer of 2018, but he was first loaned-out to Farense and Estoril to gain his match experience. It wasn't until after he returned to the club from loan in the summer of 2020 that Bragança made his first-team debut in a Europa League qualifiers match in September of the same year.
During this time, Bragança has won 1 Portuguese Primeira Liga and 2 Taça da Liga with the club. Unfortunately, after tearing his anterior cruciate ligament in early July last year, Bragança was ruled out of the season and had no chance to play for the club.