Liverpool confirmed Luis Díaz will be out of action until at least March 2023 after recurring his old injury again only just returned from injury..
2022-12-10 17:42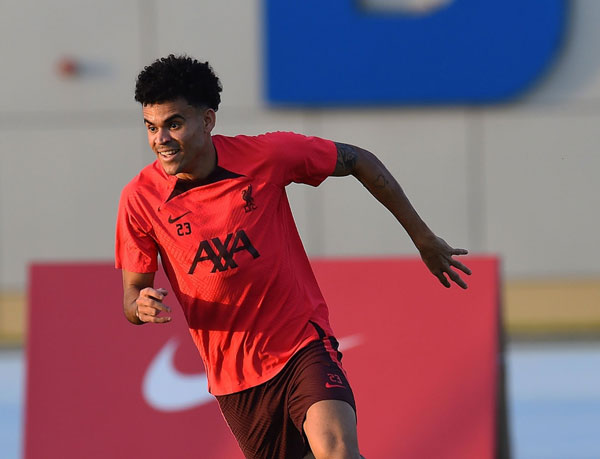 Liverpool reported bad news on their official website on Saturday that the club's Colombian international winger Luis Díaz had unfortunately aggravated and recurred his old injury after just returned from injury and will be out for a period of time again.
According to Liverpool's official statement, Díaz, who is currently training in Dubai, United Arab Emirates, with players who are not participating in the 2022 FIFA World Cup in Qatar, felt discomfort with his knee after the training session on Friday local time, and an evaluation by the team doctor following that confirmed Díaz has suffered a medial collateral ligament (MCL) injury yet again.
In response to Díaz's injury, Liverpool head coach Jürgen Klopp later confirmed in an interview with reporters that the Colombian winger was unable to train with the team due to another injury and would not play in the mid-season warm-up match against Lyon in a few days. But apart from him, other players in the team who participated in this warm-up match have not been troubled by injuries for the time being.
Subsequently, Colombia's resident Liverpool correspondent Pipe Sierra brought news that Díaz will undergo surgery on Sunday (December 11). After that, he is expected to be out of action until March before he could return, which undoubtedly brought a great impact to the Reds in their battle for the top-four spot.
In addition, Díaz has been seriously injured since the match against Arsenal in October and has not played for Liverpool so far. He even missed the opportunity to go to the Qatar World Cup with the national team.
The 25-year-old Díaz joined Liverpool on the deadline day of the winter transfer window in January 2022, and quickly established himself as the undisputed key player in the team with his outstanding performances.
Since joining, Díaz has played a total of 38 times for the Premier League giants in all competitions, scoring 10 goals, assisting 8 times, winning 1 English League Cup, 1 FA Cup and 1 English Community Shield title.