Liverpool has reportedly entered the transfer race for Fiorentina's Morocco international midfielder Sofyan Amrabat following the latter's stellar performances in the 2022 FIFA World Cup in Qatar..
2022-12-07 18:00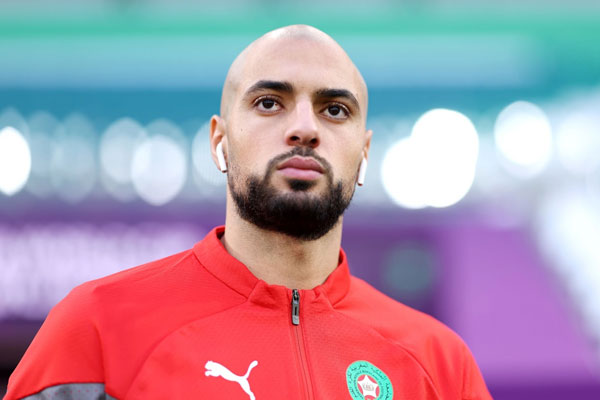 Liverpool ECHO cited sources from Italian outlet Corriere dello Sport and reported that Liverpool has officially joined the transfer race of Morocco international midfielder Sofyan Amrabat on Tuesday.
According to reports, after realizing that Borussia Dortmund's England wonderkid Jude Bellingham is being pursued by the likes of Real Madrid, Paris Saint-Germain, Manchester City, Chelsea and other giants, and they may not be able to take advantage in the transfer saga, hence Liverpool have focused on setting their sights on Amrabat as a their second-choice target.
The report also revealed that the Premier League giants are ready to submit an offer of at least €30million to the player's club Fiorentina at any time, and the Reds' Sporting Director Julian Ward has even been allowed to start contacting Amrabat's agents and make preliminary negotiations.
If nothing unexpected happens, after the end of the 2022 FIFA World Cup in Qatar, the two sides will be able start formal negotiations with the Fiorentina star himself.
The 26-year-old Amrabat joined another Serie A club Fiorentina from Hellas Verona in January 2020.
He was still unknown at the time, until his reputation shot up following his performances with the Morocco national team in the 2022 FIFA World Cup in Qatar which instantly won the praise and attention of many football pundits.
Amrabat, who mainly plays as a defensive midfielder, is highly praised for his style of play which resembles the current Liverpool Spain international star Thiago and West Ham United England international star Declan Rice.
In all four 2022 FIFA World Cup in Qatar games he has played for Morocco, Amrabat averaged 2.5 tackles, 1.5 interceptions, 1.5 clearances, 0.3 blocks, being fouled by opponents 1.3 times, as well as an impressive passing success rate of 83%, which is the highest among the entire World Cup.
It is worth noting that, in addition to Liverpool, Tottenham Hotspur have also been rumoured to be interested in signing Amrabat. But in the end, will this transfer ended up with him being hijacked and bought by the Reds just like Luis Díaz, or will the Atlas Lions star ended up being at a different club which suddenly appeared out of nowhere will be worth looking forward to.