Luke Bakio scored a goal to save the game and lead Hertha Berlin to a 1-1 draw against Hoffenheim
2022-10-03 13:56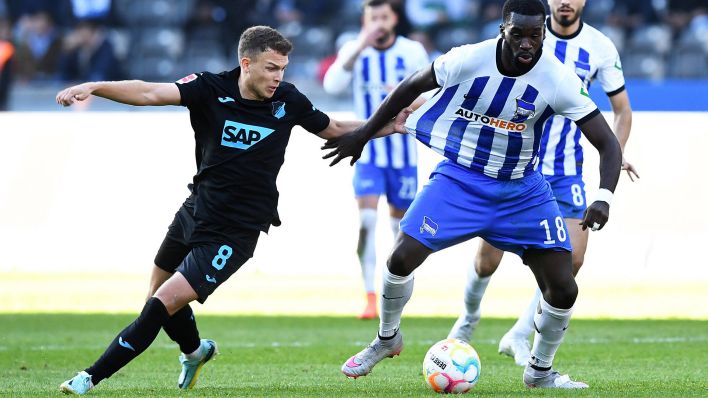 In the 8th round of the 2022-2023 Bundesliga , Hertha Berlin played against Hoffenheim at home. The 31-year-old striker Andre Kramaric of the visiting team took the lead to break the game, and the 25-year-old striker of the home team, Dodi Lukebakio, came from behind to equalize the score. . Hertha Berlin tied Hoffenheim 1-1 at home to help Hertha Berlin win their fourth unbeaten record.
In the 25th minute of the first half, the visiting team's 22-year-old defender Ozan Mohamed Kabak tried to score from the penalty spot after receiving a cross from the left, while the unmarked striker Kramaric in front of the goal changed the ball. A straight pass into the net gave the visiting team Hoffenheim a 1-0 lead.
At the same time, the first goal of the game is also the third goal contributed by Kramaric in the Bundesliga this season, accumulating the record of 200 appearances in the Bundesliga.
However, in the 37th minute, the home team's 25-year-old midfielder Suat Serda intercepted a pass from the visiting team's 27-year-old midfielder Grisha Plemel when the visiting team was asking for a pass. When Lino scrambled for the ball, he accidentally hoisted the ball to the home team's 24-year-old striker Chidra Eyuk in the middle. Eyuk then slid straight into the penalty area and assisted striker Luke Bakio with his left foot in front of the goal. A straight shot into the left bottom corner of the goal successfully equalized the score.
In the second half, the away side Kramaric tried to attack but hit the crossbar and failed to score. After that, the home team's 27-year-old defender Mark-Oliver Kempf and 23-year-old goalkeeper Oliver Christensen saved the goal and made a timely clearance when the visiting team approached the goal. Hit the ball out of the box. In the end, the two sides did not achieve anything in the second half, and the game ended in a 1-1 draw.
This match is also the 2nd draw in a row in the 3rd battle between Hertha Berlin and Hoffenheim. Currently ranked 14th in the Bundesliga standings with 1 win, 4 draws and 3 losses, they are on the verge of relegation and have not yet won a home victory this season. And Hoffenheim is ranked 5th in the Bundesliga with 4 wins, 2 draws and 2 losses.