Mbappe was elected the best player in the game, Mihnevich:No one can stop him
2022-12-05 14:15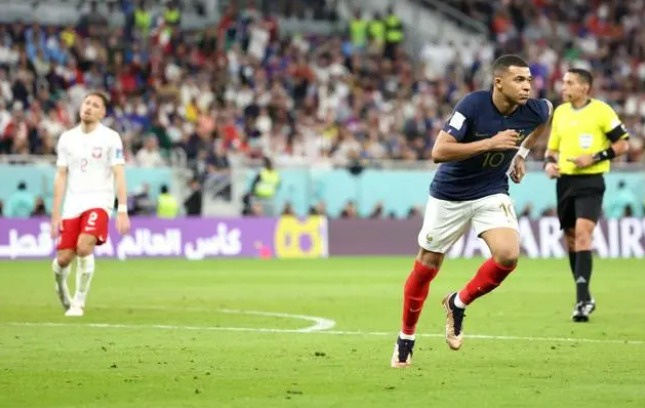 In the 1/8 finals of the 2022 Qatar World Cup , the French team defeated Poland 3-1 with Mbappe's two shots and one pass , and successfully advanced to the quarterfinals.
The French team continued to attack from the beginning of the game. In the 42nd minute of the game, Mbappé made a through pass from the left and Giroud scored a goal. In the 74th minute, Griezmann made a clearance in the penalty area, Giroud scored Dembele, Dembele passed the ball, and Mbappe scored. In the 92nd minute, Thuram Jr. made an inverted triangle pass, Mbappe scored again and scored twice, France sealed the victory 3-0 . In the 9th minute of stoppage time , Lewandowski scored a penalty kick and Poland pulled back a goal 1-3.
Mbappe had scored 7 goals in the World Cup before this game, tied with Pele for the most goals in the World Cup before the age of 24. However, after this game, Mbappe scored 9 goals, surpassing Pele and becoming the player with the most goals in the World Cup before the age of 24. Mbappe , who participated in the second World Cup, has surpassed Ronaldo in the number of goals, and is on an equal footing with Messi, who has participated in 5 World Cups.
Five of Mbappe's nine goals have come in the knockout stages. Mbappe, who is only 23 years old, has scored more than 250 goals in his career.
In this game, Mbappe took 5 shots, 3 shots on target, 2 goals and 1 assist. After the game, he was officially selected as the best player of the game.
Even the Polish coach Michnievic praised Mbappe after the game. He said that no one can stop Mbappe in his current state. He's a very good player and a huge threat to them. Mbappe is a real star player who will become a real superstar in the next few years and replace Messi, Ronaldo and Lewandowski.