Messi: It's crazy to win the title in this way; Scaloni says it's a historic moment
2022-12-19 13:08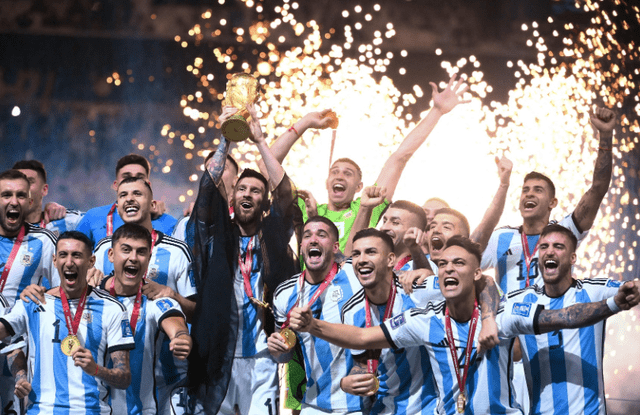 The 2022 Qatar World Cup final has come to an end, with Argentina beating defending champions France 7-5. The 35 -year-old Messi finally won the Hercules Cup.
Messi said after the game that it was crazy to win the championship in this way. He wanted it very much and knew that God would give him this trophy. Enjoy it now, look at this trophy, it's beautiful, they suffered a lot, but they did it in the end. They can't wait to go back to Argentina now to see the crazy celebrations. He can't ask for anything near the end of his career. He will not retire from the national team yet and wants to continue playing as a world champion.
Argentina coach Scaloni said he was proud. He would not be so excited on other days, but today he can let go. It was a team win and they made him very proud. He also hopes that the fans will enjoy this victory, this historic moment.
Argentine midfielder Enzo Fernandez said the chance to win the World Cup with his country is priceless. His whole family is here and he will always hold the title in his heart.
Argentine left-back Tagliafico said they played well in the first half but made mistakes in the second half but they kept going. He wants to dedicate this championship to all Argentines and those who support them.
Argentinian midfielder De Paul thought they were the fair winners and had to beat the defending champions in order to win the title, which they did and his happiness cannot be expressed.
Argentine midfielder Paredes said that there is no way to describe it in words now. Even if he didn't have this scene in his most beautiful dream, he should enjoy it. He thinks of his family, the distance he has traveled, his wife, parents and all those who have accompanied him along the way.
Argentine striker Dybala said that all this is not easy, and their current feeling will never be added in the future.
Argentinian goalkeeper Damian Martinez said thank God he had that kick, it was a difficult game but he was in control. The opponent took two shots to equalize the score, and after leading again, the opponent got a penalty kick to equalize again. In the penalty shootout, Martinez could have saved Mbappe's shot, but fortunately he saved another penalty later.