Messi surpasses Ronaldo's record of 495 goals; Galthi's future in doubt
2023-05-28 14:10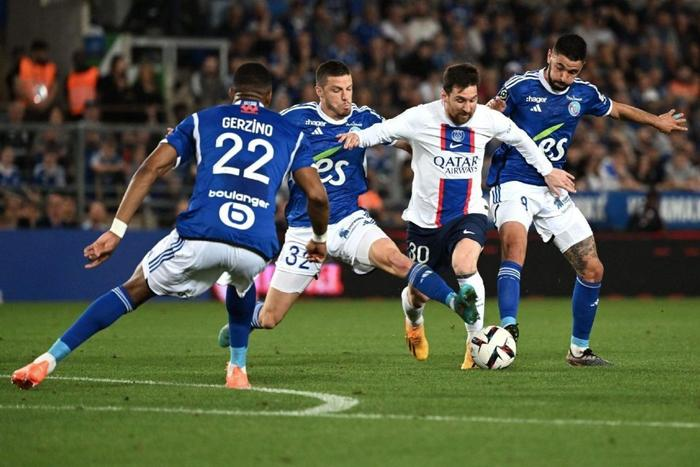 Lionel Messi scored yet another record goal as Paris Saint-Germain clinched a record 11th Ligue 1 title after a 1-1 draw with Strasbourg.
Messi's goal, a superb strike from Mbappe's pass, was his 496th in Europe's top five leagues , beating Cristiano Ronaldo 's record of 495.
It was his 32nd goal for PSG , and possibly his last, as he is expected to leave this summer.
The celebrations were relatively low-key, with PSG all but securing the title last week with a better goal difference than second-placed Lens.
The final few minutes played at a slower pace and both sides were happy with the draw, which has seen Strasbourg escape the threat of relegation.
Christophe Galthi's future remains in doubt despite helping Paris Saint-Germain to a ninth league title in the past 11 years.
He took over as coach at the start of the season after leading Lille to victory in the 2020-21 season, but being knocked out by Bayern Munich in the last 16 of the Champions League was a major blow.
Galti said: "I watched the last round of the Bundesliga this afternoon, and you can see that winning the league is very difficult, no matter which league. This season, the defending champions of various European leagues often have problems, so we Understand what that means. It's a championship and we can't take it for granted that we won it, even though we are Paris Saint-Germain."
Messi's goal in the title-deciding match ensured his time at PSG was more positive than expected in early May.
The player has been banned for two weeks for traveling to Saudi Arabia without permission from Paris Saint-Germain. The club stepped up security at his home after fans chanted against him, with many not expecting him to play for PSG again after his ban ends.