Messi wins Ballon d'Or, Mbappe wins Golden Boot
2022-12-19 12:31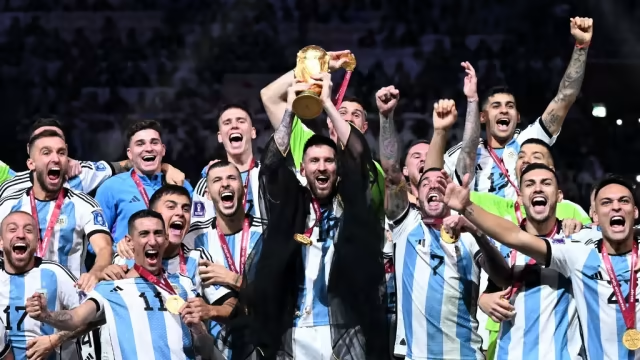 With Argentina 's 7-5 victory over France, as the World Cup in Qatar came to an end, the winners of various awards were also on the horizon.
Golden Globes
The Golden Globe winner is Messi . He played 7 times in this World Cup, scored 7 goals and assisted 3 times, ranking second in the scorer list, and tied for the first place in the assist list with Griezmann. Messi finally won the World Cup, and Argentina won the World Cup again after 36 years. It is Messi's second World Cup Ballon d'Or, having won it last time in 2014 when they lost to Germany in the final.
golden boot
In addition to the peak match between Argentina and France , this World Cup is also a contest between Messi and Mbappé. Messi scored twice in the game and helped the team end France in the penalty shootout. And Mbappe performed a hat-trick in the game and won the Golden Boot of this cup with a strong posture of 8 goals, becoming Ronaldo 's first player after the 2002 World Cup. Mbappe 's hat-trick in this game also made him the first player to score 3 goals since Hurst in the 1966 World Cup . The 23 -year-old Mbappe has now scored 12 goals in the World Cup, tying Pele to become the sixth highest scorer in history.
Best Young Player Award
The award went to 21 -year-old Enzo Fernandez. He was not a main player in Argentina's first round, but he became the team's main midfielder in the second round against Mexico. At the same time, he also scored his first goal in the World Cup in Argentina's 2-0 against Mexico . As for the final against France, Enzo Fernandez contributed 10 tackles, second only to Gattuso in the 2006 World Cup final.
golden glove award
The award went to Damian Martinez, also from Argentina. Although he failed to stop Mbappe from three penalties, he still conquered other French players with good performances. If Martinez hadn't blocked Mouani's shot in the countdown of overtime, Argentina would have been beaten by France. Martinez also performed well in the quarter-final penalty shootout against the Netherlands. This cup is the first time for Martinez to participate in the World Cup, and he is also the first South American goalkeeper in history to win the World Cup Golden Glove Award.