Modric says they put Croatia among the top teams after last and this World Cup
2022-12-18 17:10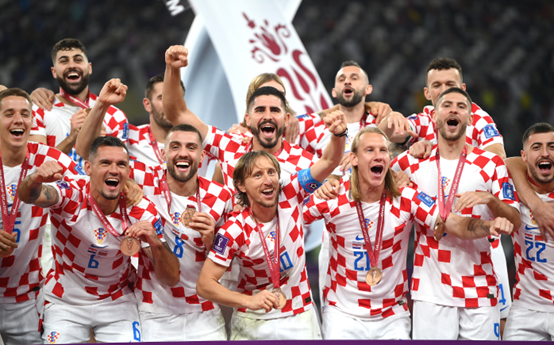 In the third and fourth finals of the 2022 Qatar World Cup , Croatia defeated Morocco 2-1 and won the third place .
Croatia got a fantastic start in the 6th minute of the game . Amrabat brought down Kramaric. Croatia got a set kick in the middle of the front court. Perisic received a header from Modric's front court free kick. Wadiol scored, Croatia 1-0 Morocco. It is worth mentioning that this goal is Gwadior's first goal in this competition and his second goal in the national team. In the 9th minute, Morocco also got a free kick. Ziyech took a corner kick, Modric's header failed to clear the siege, Dari seized the opportunity to score, and Morocco quickly equalized the score. This goal is Dari's first goal in the national team. In the 42nd minute of the game , Livaja passed the ball, Orsic followed up and scored, Croatia 2-1 .
At the end of the whole game, Croatia defeated Morocco 2-1 and successfully won the third place in this World Cup. Although Morocco lost the game and only finished fourth, it still created the best result of an African team in the World Cup.
Croatian captain Modric was interviewed after the game.
Regarding Croatia's performance in the World Cup, Modric said that he thinks they have done some great things for Croatia and Croatian football, and they are very close to the gold medal they want. Modric is sorry for not winning the title. But they need to be proud and happy that they go back to Croatia as winners and let them enjoy this big event to the fullest.
Modric also said that winning two medals in two World Cups is very important and means a lot to Croatia. They have included Croatia among the strong teams after the last and this World Cup.
Regarding Croatia and his own future, Modric said that young players have shown their strength, and Croatia has a bright future. The young player has already won a medal and Modric says it took him 12 years to win. It's something special and young players should be grateful for it. Modric said that he wants to continue in the national team until the UEFA Europa League, and then we will see what happens in the future.