[NBA regular season] Antetokounmpo bombed 35+6+7 Bucks beat Kings
2022-12-08 18:04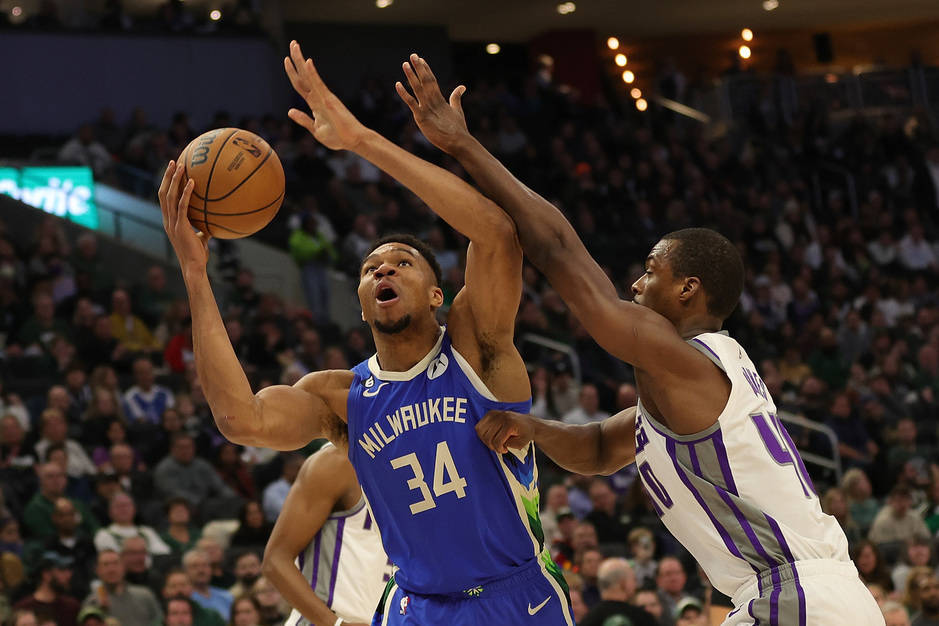 On December 8, during the NBA regular season, the Milwaukee Bucks played against the Sacramento Kings at home. In the end, the Bucks defeated the Sacramento Kings 126-113 at home (13 wins and 10 losses). The Bucks won 3 consecutive victories and continued to rank second in the Eastern Conference.
In the first quarter, the Kings made an 8-0 start against the guest. Antetokounmpo responded in time with a sudden outside shot. Holiday and Lopez continued their firepower. The Bucks chased 5 points in a row to stabilize the situation. Antetokounmpo scored 5 points in a row, Holiday hit a three-pointer, and the Bucks took the lead 18-16. Sabonis hit back with 3 points, Portis made a free throw, and the two teams drew. With Antetokounmpo scoring twice under the basket, the Bucks temporarily led 34-29 at the end of the first quarter.
In the second quarter, the two sides continued their firepower and continued to attack. Holiday suddenly made an effort to score 6 points in a row, and the Bucks led 51-42. The King once narrowed the point difference to 3 points in the middle, but Holiday scored 6 points in a row to stabilize the situation. At the end, Antetokounmpo teamed up with Middleton to keep scoring points. Hill led the team to score another 7 points in the three-pointer. The team stretched the advantage to 9 points. At 6 minutes and 53 seconds, Barnes assisted and Sabonis made a long three-pointer. At halftime, the Bucks continued to lead 68-61.
In the third quarter, Sabonis continued to score inside, the Kings continued to chase points, Huett and Fox each scored 3 points, they led the team to chase 8 points in a row, Connaughton returned with a three-pointer, Fox and Barnes scored in turn, the Kings Trailing 80-83. Holiday made another effort, scoring 6 points in a row to stabilize the situation and help the Bucks hold their advantage. Not to be outdone, Sabonis chased for 5 points and Murray hit a three-pointer. They led the team to a 10-2 counterattack to end the third quarter. The Kings trailed by 3 points 94-97.
In the fourth quarter, Antetokounmpo made two free throws. The Kings combined inside and outside to continue the momentum of chasing points. The Kings took another 4 points to catch up. Antetokounmpo responded strongly by killing one after another. orgasm . Barnes and Fox both made two free throws to stop the bleeding, Daluo counterattacked with 5 points, Antetokounmpo and Middleton also scored in turn, and the Bucks stretched their advantage to 15 points. Antetokounmpo scored 12 points alone, helping the team withstand the King's counterattack and finally won the victory. The Bucks won 126-113 . Ending the King's three-game winning streak (13 wins and 10 losses), the King's ranking fell to 5th in the West.