[NBA regular season] Heat beat Spurs 111-101 with great touch
2022-12-18 17:35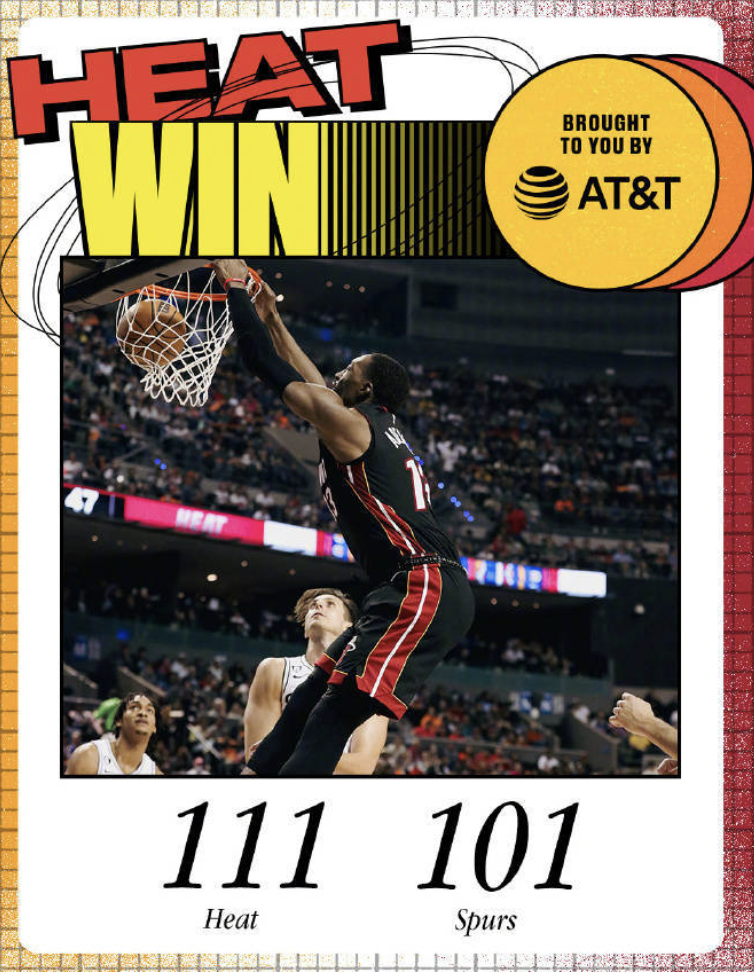 News, December 18th , the NBA regular season continues, and today the Heat challenged the Spurs away. After several rounds of fierce competition, the Heat won 111-101 .
At the beginning of the first quarter, the Heat turned their backs. Vassell, Poeltl and Sohan scored consecutively and took a double-digit lead. Johnson broke out suddenly and hit two three-pointers. He scored 10 points in a row and led the team to a 19-0 offensive climax. With 1 minute and 10 seconds left in the first quarter, the Spurs led by 8 points 28-20. Oladipo and Shiro returned 5 points to end the first quarter. After the first game, the Spurs led the Heat 28-25.
The fierce battle continued in the second quarter, and the Heat Adebayor made consecutive inside shots to catch up with the score. Collins and Johnson scored three-pointers each. , The Spurs led 49-44 at 2 minutes and 30 seconds before halftime . Collins and Vassell hit back with 4 points, and Butler succeeded with 3 points. At the end of the second quarter, the Heat trailed by 3 points 52-55, and the Spurs entered the next quarter with a 3-point advantage.
Fighting again in the third quarter, Vassell made the first shot and Butler scored 5 points in a row to narrow the point difference, and the scores of the two sides increased alternately. Hiero was approaching with 5 points in a row, Johnson and Collins fought back with 5 points and opened again. The Spurs Sohan and Branham scored 5 points in a row to regain the advantage. After Struth and Butler scored, Branham hit a three-pointer again. Then the Heat Butler stepped up to catch up with the score. At the end of the third quarter, the Spurs led the Heat 84-80 to end the third quarter.
Entering the final battle in the last quarter, Robinson succeeded in scoring 4 points, and then Adebayor and Butler continued to fire, continuously widening the point difference to double digits. , Adebayor and Butler scored 6 points together, and the Heat led 101-91 by 10 points at halfway through this quarter. At the end of the game, the Heat beat the Spurs 111-101 to win the game .

Both starting lineups
Heat: Butler, Adebayor, Hiro, Strus, Jovic
Spurs: Poeltl, Johnson, Vassell, Jones, Sohan
Records of both players
Heat:
Hiro 21 points, 6 rebounds, 7 assists and 2 steals, Adebayor 22 points , 13 rebounds, 3 assists and 1 steal, Butler 26 points , 5 rebounds, 4 assists , 1 cap and 2 steals, Oladipo 7 points , 2 rebounds , 3 assists and 5 steals, Struth 12 points, 4 rebounds, 3 assists and 1 steal, Dunro 12 points , 2 rebounds , 3 assists and 2 steals, Highsmith 3 points , 5 rebounds and 1 block , Jovic 3 points , 1 rebound and 1 steal, Dedmon 3 points , 1 rebound and 1 assist 1 block, Orlando Robinson 2 points , 1 rebound , 1 assist
Spurs:
Johnson 22 points, 2 rebounds, 3 assists and 1 steal, Diop 10 points , 4 rebounds , 4 assists and 1 steal, Vassell 18 points , 3 rebounds , 2 assists and 1 steal, Jones 9 points , 3 rebounds , 9 assists and 1 steal, Collins 13 points , 7 rebounds and 5 assists 2 blocks, Poeltl 7 points , 7 rebounds , 2 steals, McDermott 8 points , 5 rebounds , 1 assist , 1 block, Branham 12 points , 2 steals , Sohan 2 points , 4 rebounds, 4 assists