[NBA regular season] Nuggets beat Rockets 120-100!
2022-12-01 16:23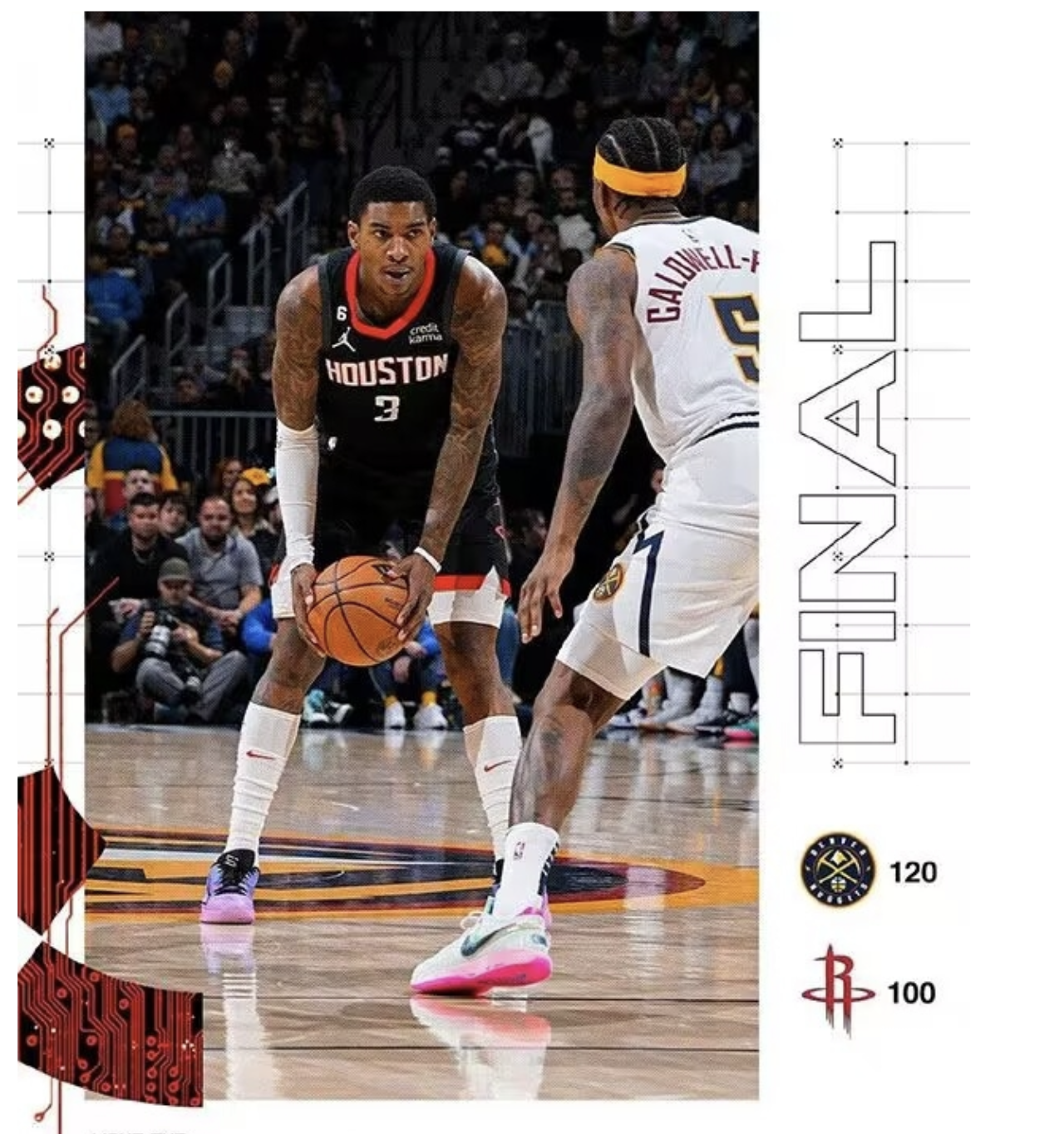 News on December 1 , the NBA regular season ushered in another battle, the Nuggets and the Rockets ushered in a strong duel, and finally entered a few rounds of fiery duels, the Nuggets defeated the Rockets 120-100 .
In the first quarter, after receiving a pass from Brown, Gordon succeeded in a long three-pointer , Gordon made a layup, Green scored a throw, Porter completed a dunk, and then he scored a three-pointer, scoring 5 points in a row . . The Nuggets played smoothly, and the team completed 10 assists in this quarter, with a shooting percentage of 60% . At the end of the first quarter, the Nuggets led the Rockets 44-24.
Back in the second quarter, Shen Jing dunked and scored 2 points. This quarter kicked off, Murray scored a three-pointer, Smith responded with a three-pointer, and Aaron Gordon made another three-pointer. Matthews fouled when Gordon shot and gave the Nuggets 2 free throw opportunities. In this quarter, the Nuggets played 9 more assists with excellent skills, and the shooting percentage was only 26.9% due to the defense of the enemy and friends . At the end of the second quarter, the Nuggets continued to lead with 27 points and entered the next quarter.
The fierce battle continued in the third quarter, Smith made a three-pointer, and Jokic made a long-range three-pointer. Jokic responded with a three-pointer, Green scored 2+1 with a hook , Murray counterattacked and scored a layup, Brown completed a shot, Jokic scored a throw, Martin completed a dunk, and Ismail made a layup. The Rockets missed a three-pointer. The Rockets shot 12 three-pointers in this section, but their shooting percentage was only 33.3% . With the end of the three quarters, the Nuggets led the Rockets 96-72, and the score gap gradually widened.
At the beginning of the last quarter, both sides were fully fired, Smith also hit a three-pointer, Garuba made a layup and scored 2+1 , Jokic fouled Porter when he shot, and gave the Rockets a free throw opportunity. Green scored a layup, Jokic responded with a mid-range shot, Najib made a pass error and was intercepted by Christopher. After several rounds of fierce fighting, the Nuggets beat the Rockets 120-100 and ushered in a four-game winning streak .
Records of both players
Nuggets:
Murray scored 26 points , 4 rebounds and 2 assists, Gordon scored 20 points , 6 rebounds , 2 assists and 1 block, Brown scored 18 points , 5 rebounds , 4 assists and 2 steals, Jokic scored 17 points , 9 rebounds and 12 assists
Rocket:
Porter scored 23 points, 6 rebounds , 5 assists and 1 steal, Shin Kyung scored 18 points , 11 rebounds and 1 assist, Green contributed 16 points , 3 rebounds and 3 assists
Both starting lineups
Rockets: Smith, Shin Kyung, Gordon, Green, Porter
Nuggets: Jokic, Cardwell - Pope, Murray, Gordon, Brown