[NBA Regular Season] The Eagles successfully ended their 3-game losing streak and narrowly beat the Bulls 123-122
2022-12-12 19:21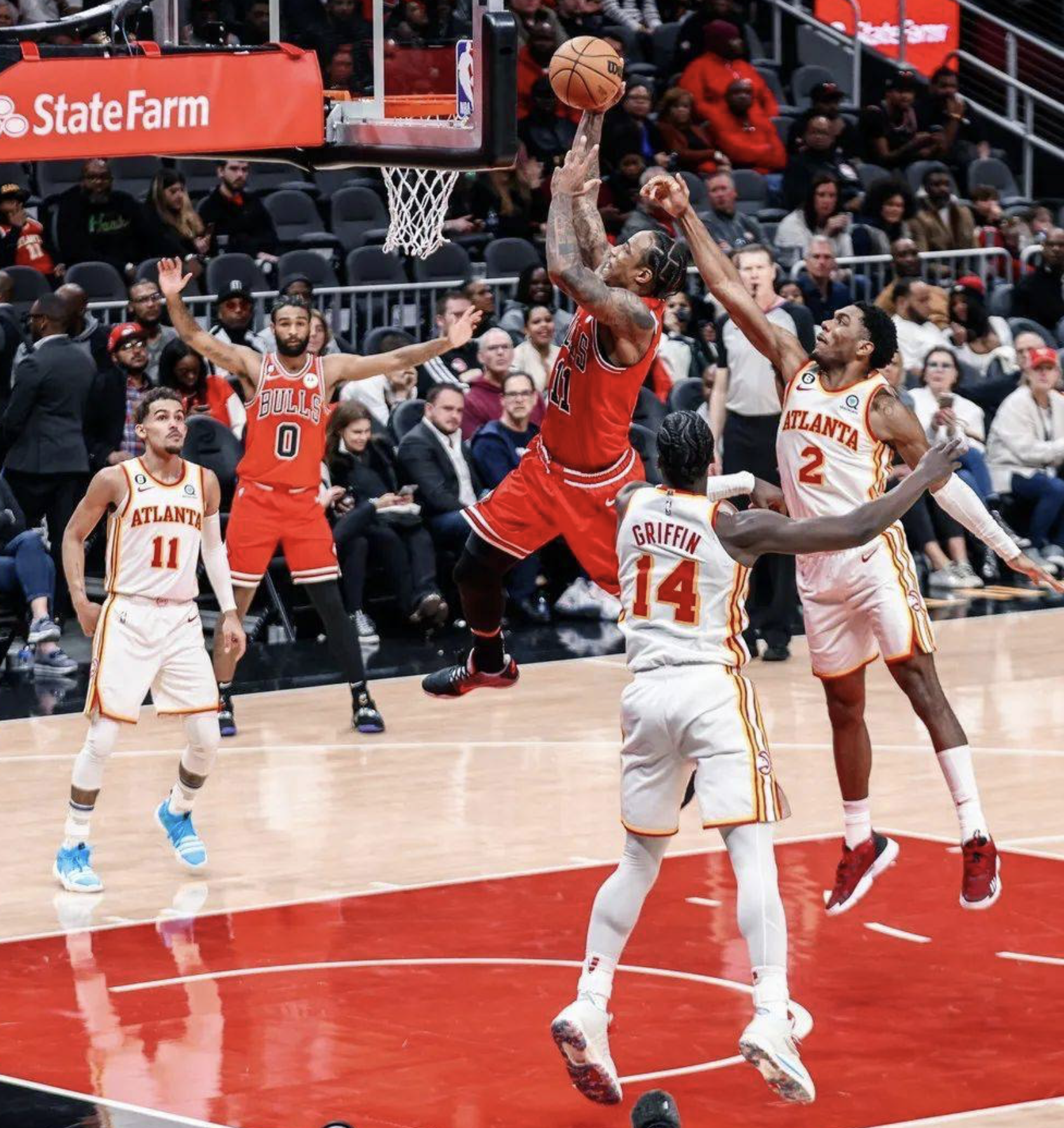 News, December 12th , the NBA regular season is in full swing, and today the Eagles and the Bulls ushered in a strong matchup at home. After several rounds of fierce duels, the Hawks narrowly beat the Bulls 123-122 in overtime, and the Hawks successfully ended their 3- game losing streak.
At the beginning of the game, the Bulls scored consecutively with full firepower, leading the Eagles by 2-6. Griffin made a three-pointer and Bogdanovic made a three - point lead. The Bulls regained the lead with a 6-0 offensive. Capela dunked and scored again. Vucevic made a mid-range shot, Tre Young was hit on the head and was replaced, Okongwu dunked and Johnson made two free throws to catch up to a 20-20 tie. Bogdanovic made a throw and White hit a three-pointer at the buzzer. The Eagles lost 22-27 to the Bulls in the first quarter .
At the beginning of the second quarter, the Eagles successfully led by 1 point with an 8-2 offensive. Pa Wei and Griffin each completed a throw, LaVine made a mid-range shot, Tre Young made two free throws and assisted Griffin with a three-pointer. Bogdanovic scored frequently from inside and outside, and the Eagles took the lead. Griffin even made three-pointers to expand their advantage. At halftime, the Eagles led 58-50.
The third fierce battle continued, Pawei made a dunk and DeRozan made a mid-range shot, Tre Young scored consecutive three-pointers, and DeRozan scored 2+1 . The Eagles scored 5 points in a row to gain a 12 -point advantage, and both sides scored 4 points each. At the critical moment, LaVine scored a three-pointer, Griffin counterattacked 2+1, the Bulls made an 8-1 offensive, Okongwu dunked, and at the end of the three quarters, the Eagles led by 7 points. At the beginning of the quarter, Dragic made a layup, Bogdanovic hit a three-pointer, Drummond dunked with the Tomahawk, Hunter scored 4 points in a row, Dragic and Jones made successive layups. LaVine missed a three-pointer, Bogdanovic made a difficult fallback shot, and LaVine made two consecutive dunks to catch up with only 1 point. At the critical moment, White steals Griffin to help the Bulls get the ball. Jones grabs an offensive rebound and makes a tip-up in the air and makes two free throws to tie the game.
The game entered overtime, and Trey Young continued to score a layup with full firepower. After the two sides hit the iron continuously, White caught up with a three-pointer to a 119-119 tie. DeRozan made a three-pointer in the last second and caused Bogdanovic to foul with a three-pointer. DeRozan made all three free throws to overtake by 1 point. In the end, the Eagles narrowly beat the Bulls by one point in overtime and successfully won.
eagle:
Trae Young, AJ Griffin, DeAndre James Hunter, Clint Capela, Trent Fores
bull:
DeMar DeRozan, Zachary Thomas LaVine, Nikola Vucevic, Patrick Williams, Ayo Dosunmu
Records of both players
eagle:
Tre Young had 19 points and 14 assists, Bogdanovic had 6 three-pointers, 28 points , 7 rebounds and 5 assists, Griffin had 17 points, Hunter had 16 points, Capela had 15 points and 14 rebounds, Okongwu had 14 points and 9 rebound
bull:
DeRozan 34 points, 13 rebounds and 8 assists, Vucevic 13 points and 8 rebounds, LaVine 21 points and 7 turnovers, White 4 three-pointers and 12 points, Jones 14 points and 3 blocks, Drummond 14 points , 9 rebounds and 5 steals