[NBA regular season] The Jazz narrowly beat the Pelicans 132 to 129, and the record of defeat stands at 7th in the Western Conference!
2022-12-16 19:52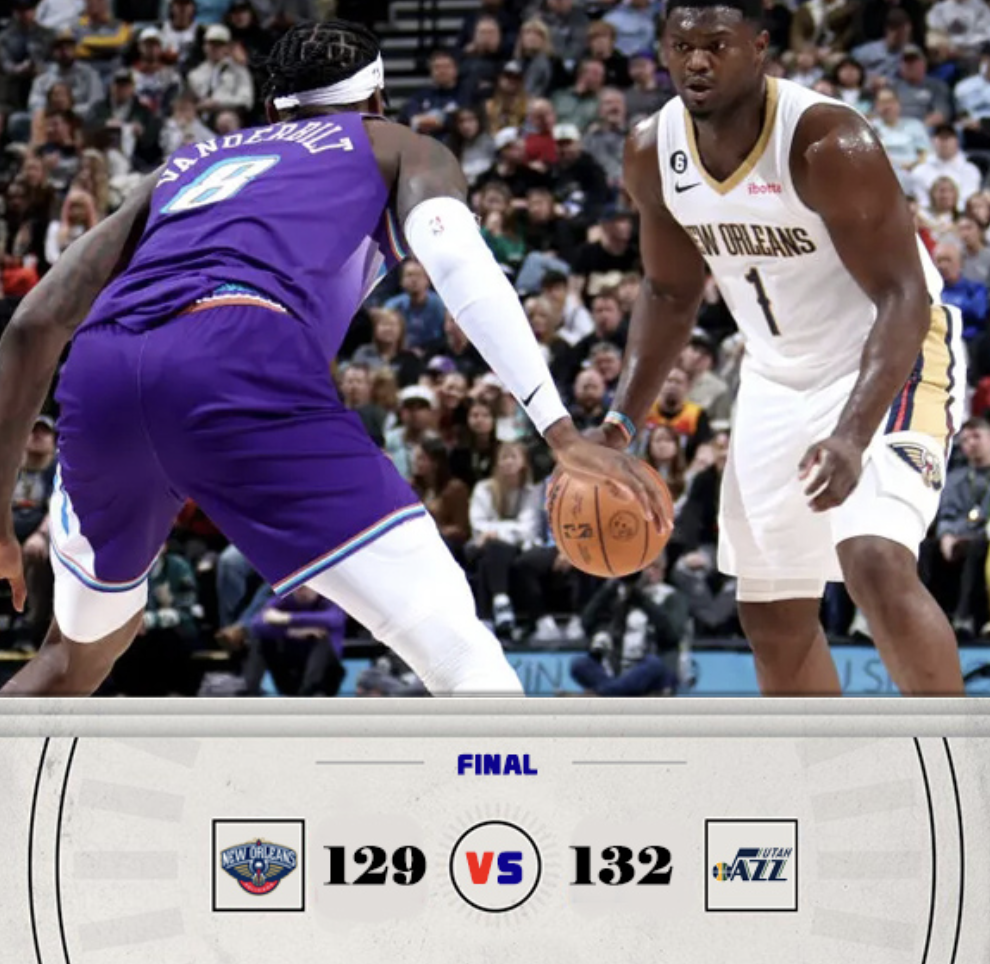 News on December 16, the Jazz played against the Pelicans at home. After several rounds of confrontation, the Jazz narrowly beat the Pelicans 132 to 129. The Jazz are 7th in the Western Conference with a record of 17 wins and 14 losses .
At the beginning of the first quarter, Valanciunas fouled Vanderbilt while shooting and gave the Jazz 2 free throw opportunities. Clarkson was on fire and scored 17 points in a single quarter to help the Jazz take a weak lead. Nance and Graham recovered 4 points, Beasley returned a three-pointer, Graham responded with a three-pointer, Lakson and Markkanen threw three-pointers one after another to help the Jazz overtake the score. At the end of the first quarter, the Pelicans trailed by 2 points 25-27.
The second quarter continued, Mike Collum hit a jumper, Marshall completed 2+1 on horseback archery, McCollum broke out suddenly, and stopped the Jazz with 2+1 and a three-pointer. Zion responded with 7 points, Jones also hit a three-pointer, and the Pelicans took a 50-46 lead at 4 minutes and 50 seconds before halftime. The Jazz played smoothly and cooperated. The team completed 8 assists in this quarter. The Jazz team shot 12 three-pointers in this quarter, shooting 41.7%. At the end of the second quarter, the Pelicans overtook the score to 62-58.
The fierce battle continued in the third quarter. Olynyk sent an exquisite pass, Markkanen made a long three-pointer, McCollum and Zion both scored 3 points successfully. Jones fouled when Olynik shot and gave the Jazz a free throw opportunity. Clarkson and Olynyk recovered 5 points, Murphy hit back a three-pointer, and Daniels made two consecutive three-pointers. Beasley made another three-pointer, Clarkson made a counter-attack layup, and Marshall and Graham scored 5 points to end the third quarter. In this quarter, the Pelicans continued to lead 95-91.
The fiery state continued in the next quarter. With the assist of Clarkson, Kessler scored 2 points for a domineering dunk. Markkanen scored 4 points with consecutive shots and penalties. The Jazz counterattacked with 7 points and fell behind 100-101. At the critical moment, Jazz Markkanen ran away and scored consecutive points from inside and outside. With the assist of Clarkson, Kessler scored 2 points with a domineering dunk . The two teams tied 123-123 at the last moment, dragging the game into overtime.
In overtime, McCollum missed a three-pointer, Markkanen got a rebound and was fouled, and made two free throws. The Jazz led by 5 points. Nance hit a jumper to no avail. The Jazz beat the Pelicans 132-129 to win the game.
Starting lineup:
Pelicans: McCollum, Jones, Murphy, Zion, Valanciunas
Jazz: Conley, Clarkson, Markkanen, Vanderbilt, Olynyk
Records of both players
Jazz: Clarkson 39 points, 8 rebounds, 2 assists and 2 steals, Markkanen 31 points, 5 rebounds and 3 assists, Olynyk 14 points, 7 rebounds and 3 assists, Vanderbilt 3 points, 6 rebounds, 3 assists and 2 steals, Conley 4 points and 6 Assists and 2 rebounds, Kessler 11 points and 8 rebounds, Beasley 17 points and 3 rebounds, Alexander Walker 7 points and 3 assists, Gay 2 points, 3 rebounds and 2 steals, Azubuike 4 points

Pelicans: Zion 31 points, 8 rebounds, 8 assists and 2 blocks, McCollum 28 points, 6 rebounds and 4 assists, Murphy 12 points and 5 rebounds, Varan 6 points and 9 rebounds, Herbert Jones 12 points, 4 rebounds and 4 assists, Marshall 13 points, 2 rebounds, 2 assists and 4 steals, Nance 13 points and 9 rebounds, Graham 8 points, 3 rebounds and 3 assists, Daniels 6 points and 3 rebounds