Nike terminates their sponsorship and collaboration with Brooklyn Nets point-guard Kyrie Irving after the latter's promotion of controversial anti-semitic Amazon Prime movie..
2022-12-06 19:05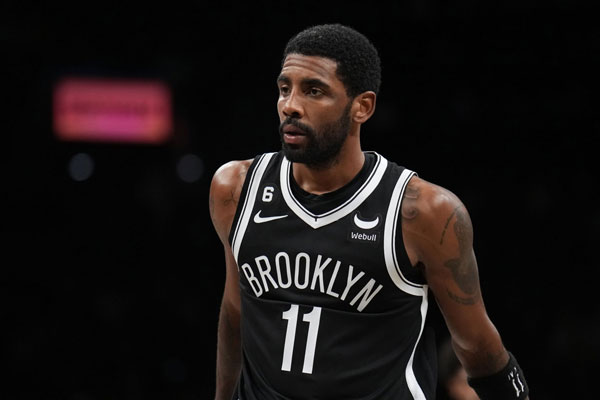 American authoritative online media The Athletic's resident renowned NBA reporter Shams Charania reported on Monday that the famous sports brand Nike announced on the local time of the same day that the brand will no longer be sponsoring and collborating with Brooklyn Nets point guard Kyrie Irving as a professional athlete after he had posted anti-semitic messages.
According to the report, Nike made the above announcement to the American outlet ESPN through the company's official female spokesperson. Subsequently, Irving's stepmother and agent, Shetellia Riley Irving also confirmed this matter, and said that both parties mutually terminated their contract after reaching an agreement, and wished Nike's future business endavours will continue to grow day by day.
The report also added that although Irving is no longer a sponsored athlete of Nike, and his anti-semitic behaviour has seriously damaged the company's brand image, as the 2022/23 NBA regular season has been in full swing for several months, moreover, the brand and the NBA do not want to restrict the players to choose which sneakers to play with and their comfortness preferences because of this matter, thus both parties have also agreed not to force players to ban to wear the Irving series sneakers while playing.
With this announcement from Nike, it is curious to see how the sales of the Irving Series Sneakers, which are well-known and loved all over the world and even by those among NBA, CBA, and Taiwanese P.LEAGUE+ basketball players, will be affected.
On November 1 local time, Nike announced that the brand had decided not to launch the collaborative basketball sneaker Irving 8 in cooperation with Irving according to their original plans, and announced that it would suspend sponsorship of the same player who was unwilling to get his COVID-19 vaccines and has been banned from entering Canada to play against the Toronto Raptors for many years.
At that time, Phil Knight, the co-founder of the Nike brand, admitted in an interview with CNBC that the reason that they had made this decision was precisely because the Brooklyn Nets star had crossed the bottom line that should not have been touched in the first place.
According to earlier reports from a number of American media, Irving posted and promoted the controversial anti-semitic book and movie Hebrews to Negroes: Wake Up Black America on the online video streaming platform Amazon Prime on his official Twitter account at 2:44 noon on October 27 local time and he immediately came under scrutiny from many sides.
Later, Irving, who refused to apologize, was banned by the Nets and criticized by the team owner and co-founder of Alibaba, Joe Tsai, was only willing to apologize and promised to donate $500,000 to charity organizations as a lesson for this time, however this move has been rejected by a number of groups headed by the American Defamation League (ADL). Likewise, Jewish community in America also petitioned to demanded Amazon and Amazon Prime to remove this maliciously disseminated anti-semitic book and movie from being sold, but was rejected by the company's CEO Andy Gassy.
So far, before the deadline, there are still a large number of fans who blindly support Irving and some African-American netizens who hold the same opinion still insist that the star's anti-semitic stance is not wrong, but only because he is an African-American.