Portugal's first World Cup loss with a one-goal lead, 1-2 to South Korea
2022-12-03 11:41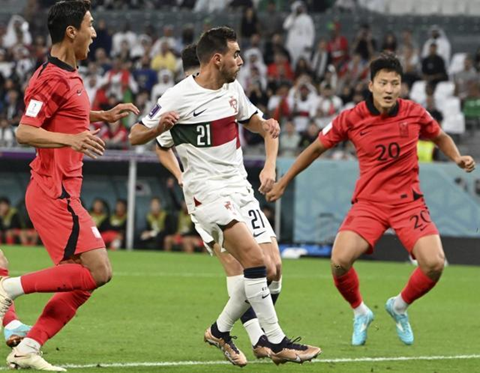 The third round of Group H of the 2022 Qatar World Cup ushered in a focus match between Portugal and South Korea. South Korea conceded a goal in the 5th minute of the game, Horta scored a goal, and Portugal got a fantastic start. However, South Korea then went on the attack and in the 27th minute Kim Young- kwon equalized with a goal assisted by Ronaldo's own goal. It is worth mentioning that this is Kim Young-kwon's second consecutive World Cup goal. Afterwards, the two sides remained at a stalemate until stoppage time in the second half, when Hwang Hee-chan pushed and scored, South Korea reversed Portugal 2-1.
According to statistics, this is the second time Portugal lost to an Asian team in the World Cup, and both times they lost to South Korea. The last time was a 0-1 loss to South Korea in the 2002 World Cup .
Portugal is unbeaten in the other four games against Asian teams with 3 wins and 1 draw. However, Portugal lost the game with one goal ahead, the team's first in the World Cup. Portugal have never lost a game when they scored first in the World Cup.
Cristiano Ronaldo started the game, but his state was not as expected. He lost the ball 6 times in the first half, and also assisted South Korea with an own goal. According to foreign media reports, when Ronaldo was substituted, he told Santos that the opponent was too eager to replace him.
However, Ronaldo also set a new record in this game. Portugal won all the first two rounds of the game. Ronaldo will take turns to rest after the promotion has been confirmed, but he still starts the game. This makes him the first player in history to start 20 games in the World Cup and 25 games in the European Cup . one person.
In addition, the audience rating of this game in South Korea is as high as 3.0281% , which is the first in the country at the same time. This game happened to be on the weekend, and the confrontation between Ronaldo and Sun Xingmin is a highlight. South Korea achieved a reversal in a very passive situation. Sun Xingmin sent a lore assist, and he also cried after the game.