Qatar World Cup - Neymar's comeback, Brazil scored 4 goals in the first half and directly beat South Korea 4-1
2022-12-06 09:04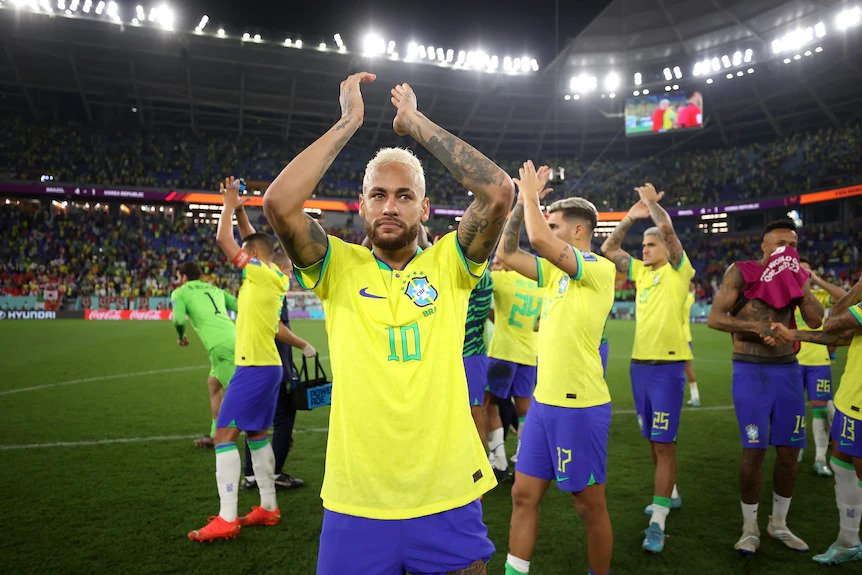 The 1/8 finals of the World Cup in Qatar continued, with Brazil playing against South Korea. Neymar came back in this game and contributed 1 goal for Brazil. Brazil beat South Korea 4-1 to win.
First Half
In the 7th minute, Neymar passed the ball under the right side of the penalty area, Vinicius scored successfully, and Brazil quickly scored the first point.
In the 10th minute, Richarlison was tripped and Brazil got a penalty kick. In the 13th minute, Neymar took the penalty shot and Brazil took the second point.
In the 29th minute, Silval passed the ball at the top of the arc, and Richarlison made a successful push near the goal, scoring the third point for Brazil again.
In the 36th minute, Vinicius made a pass from the left side of the penalty area, Paqueta followed up and shot, and Brazil scored another 4 points and took the lead.
Second Half
In the 46th minute, Sun Xingmin shot in the penalty area, but unfortunately missed the goal and missed a good opportunity.
In the 67th minute, the South Korean player made a long pass from the left and was cleared by Danilo. Huang Xican shot was saved by the goalkeeper. Although Sun Xingmin made a supplementary shot, it was also blocked.
In the 76th minute, Lee Gang-in took a free kick and the Brazilian player made a header to clear the siege, but the ball went in front of Baek Seung-ho. After receiving the ball, Baek Seung-ho made a successful shot. South Korea finally got back 1 point.
In the 79th minute, Kim Min-jae made a far pass, and Cao Guicheng chased into the penalty area and shot, which was saved by the Brazilian goalkeeper.
At the end of the game, Brazil defeated South Korea 4-1 and successfully advanced to the top 8.