Qatar World Cup 2022 | The Man Behind Messi
2022-12-11 12:02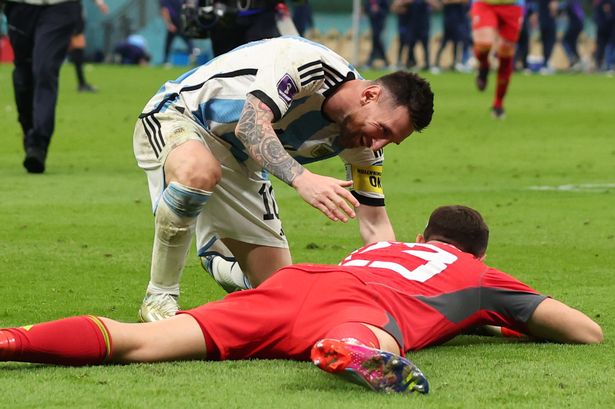 Just as Argentina's full field players and substitutes came running to congratulate Martinez on his brilliant penalty, Lionel Messi walked across. The Argentina captain runs towards goalkeeper Emiliano Martinez .
When Martinez scored the last goal and went out from 12 yards, the entire team of Argentine players ran to the key figure who made the final cut. Only Messi walked slowly from the center circle to the bottom line, who had just rescued for the team E. Martinez with two goals and twelve yards . Later, the backup goalkeeper also came over.
Messi: "Thanks to his saves, we didn't suffer more."
As early as last year in the America's Cup, Martinez saved three goals and 12 yards in the semi-finals to help Argentina reach the final, and then won the championship against Brazil, helping Metz win Argentina's first adult championship. After the game, Messi thanked Martinez for his contribution on social platforms.
From playing for the club on the bench for eight years, to playing at a high level, earning a regular spot at another club, and then being voted top goalkeeper for the national team, Martinez made himself a better person and in turn helped Messi and Argentina living their dream.
"I will do my best to help Messi win the championship without any conditions." Martinez has said many times that he will do his best to help Messi win the last piece of the puzzle.
Messi bears the heavy responsibility of being a champion, regardless of whether he wins or loses, but behind the public opinion, there are actually still comrades who silently support him and lend a helping hand when he is most helpless.