Qatar World Cup 2022 - Argentina 2-1 Australia: Messi leads Argentina to World Cup quarter-finals
2022-12-04 09:20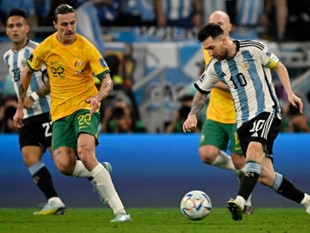 Lionel Messi scored his first goal in a World Cup knockout round in his 1,000th game , beating Diego Maradona's tournament record as Argentina beat on Saturday Frantic Australia fought back, winning 2-1 and advancing to the quarter-finals.
Messi scored his side with a cool low shot after 35 minutes, his 94th international goal, in a campaign in which he played in nearly every Argentine attack important role.
Messi gave up two clear chances late on, but it was Australia's teenage substitute Galangour who got the stadium's hearts pumping in stoppage time, with his shot from close range on the turn being missed by Amy Martinez. Excellent save.
Moments later the final whistle blew and the Australian bench put their heads in their hands, sparking wild celebrations from the Argentine side and cheers from around the packed Ahmad Bin Ali Stadium.
last minute nervous
Messi said: " Their goals complicate things in the end, but this is the World Cup and it's never easy. "
" Right now we have a very strong game against the Netherlands, they are playing well. They have great players and a great coach and it will be a tough fight.
" If the World Cup was difficult from the start, it will be even more difficult at this stage. "