RB Leipzig completes contract extension with defensive all-rounder Mohamed Simakan..
2022-12-07 09:55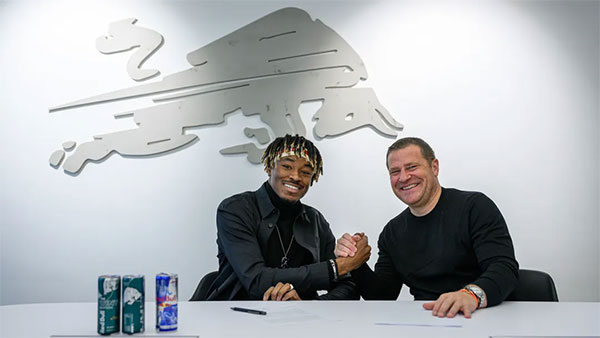 RB Leipzig announced on the official website on Tuesday that the club has extended the contracr former French U21 international center back Mohamed Simakan.
According to the official statement of RB Leipzig, Simakan has agreed to a one-year extension to his current deal, which will see his renewed contract runs until the summer of 2027.
After completing the contract renewal procedures, Simakan said in an interview with the official website of RB Leipzig that: "When I came to the club a year and a half ago, this was a challenge for me to take a big step forward. From the first day since I was here, I've been feeling very happy to be here. I've had a great welcome, it's really important to me because it allows me to perform on the pitch and grow in the best possible way. The club and the city has quickly become my second home and I'm delighted to be here. We've accomplished a lot in 2022 and I'm looking forward to everything that lies ahead. The trust and recognition I received hear from the management, the coaching staff, my teammates and especially the fans shows that we have a bright future together."
Regarding Simakan's contract extension, RB Leipzig's new sporting director Max Eberl added: "Simakan is a player who has made amazing progress at RB Leipzig. At only 22 years old, he has great potential to get better. He impresses at right back and has shown his ability in attack and defense. It really highlights his versatility. Simakan is a key player for our team, he and everyone associated with the and RB Leipzig club will continue indefinitely. We are delighted to be able to extend his contract ahead of schedule."
Simakan, who is only 22 years old, was born in Marseille, France on May 3, 2000. He is 1.87 meters tall and has dual nationality of France and Guinea. He primarily plays as as center back, but can also be deployted as a left-back, right-back or defensive midfielder, proving himself as a defensive all-rounder. Simakan played in the youth academy of his hometown club Marseille in his early years, but after leaving the team in 2014, he joined the youth academy of Strasbourg in the summer of 2017 after moving multiple teams.
Simakan was officially promoted to the first team in the summer of 2019, and made his Strasbourg first team debut in the Europa League in July 2019.
On March 22, 2021, Simakan joined RB Leipzig for €15million. He was not given high hopes at the beginning after joining, but soon won the plaudits of many people in the industry headed by the famous English YouTube football channel Football Daily with his steady performances.
Since joining, Simakan has played a total of 60 times for the Bundesliga powerhouse in all competitions, scoring 4 goals and assisting 6 times, and won the DFB-Pokal in the 2021/22 season with the club.