Real Betis is planning to re-sign ex-Arsenal Spanish international defender Héctor Bellerín on a free transfer..
2023-03-29 15:53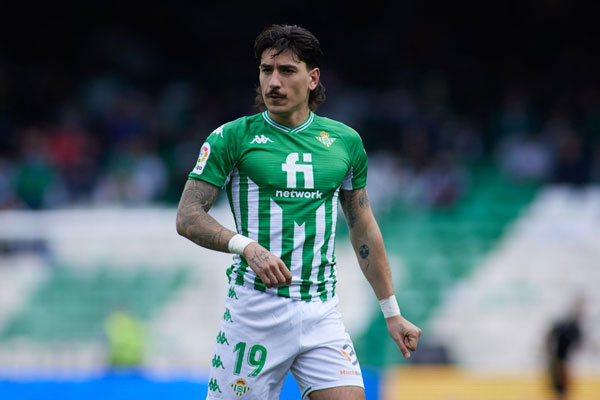 Sky Sports' renowned Italian transfer new journalist, Fabrizio Romano, reported on Tuesday that Real Betis is planning to re-sign ex-Arsenal Spain international right-back Héctor Bellerín on a free transfer.
According to Romano's report, in fact, before Bellerín chose to return to Barcelona last summer, Real Betis had already planned to buyout Bellerín, who was already playing for the club on-loan at the time, but due to transfer budget issues, the club did not had time to contact Bellerín and Arsenal, as the player had already agreed to return to Barcelona.
Romano also added that Real Betis has already started approaching Bellerín, and both sides have reached a very advanced negotiation stage. Should everything goes well, Bellerín, who is also very interested in joining Los Verdiblancos again, may reach a verbal agreement with Real Betis in May.
Bellerín, 27, was a born and raised Catalan, as well as Spaniard who was born in Barcelona born on March 19, 1995. Just as he said, Bellerín joined Barcelona's famous La Masia youth academy since he was 7, and has played for the youth sides of the club across various age group for 8 years.
In the summer of 2011, Bellerín transferred to Arsenal's youth academy for £50,000 after being discovered by the club's legendary former French head coach Arsene Wenger.
Bellerín was promoted to the first team in 2012, and was originally scheduled to be loaned to Watford for a season the following year, however due to an injury crisis for the club's defenders midway through the season, Bellerín was recalled after just two months on-loan.
After returning to the team, Bellerín made his first-team debut in September 2014. Since the following year, he has established himself as a key player in the team with his strong performances, being named the PFA Player of The Year, and won the England Community Shield and the FA Cup twice.
Bellerín, who was just appointed as one of the club's vice-captains in the summer of 2019, unfortunately suffered a torn meniscus in his left knee and was sidelined for 9 months during the Premier League match against local-rivals Chelsea in January 2020. When he returned to the team in October of the same year, Bellerín had begun to lose his pace and explosiveness. Despite this, he still managed to lead his club to win his third FA Cup in his career.
Last season, with the arrival of Benjamin White, Nuno Tavares and Takehiro Tomiyasu, Bellerín, who had completely lost his place in the team, returned to La Liga on-loan and played for Real Betis, where he made 32 times in all competitions, assisted 5 times and led the club to win the Copa Del Rey.
On the deadline day of the transfer window last summer, Bellerín returned to Barcelona on a free transfer after a mutual termination of his contract. However, as he lacked opportunities to play, Bellerín chose to move to Sporting Clube de Portugal during the winter transfer window in January this year.
Since joining Sporting Clube de Portugal, Bellerín has played 13 times for the Portuguese Primeira Liga all in various competitions and scored 1 goal.