Ronaldo posted on social media: Pain, Uncertainty, constant work
2022-12-13 11:36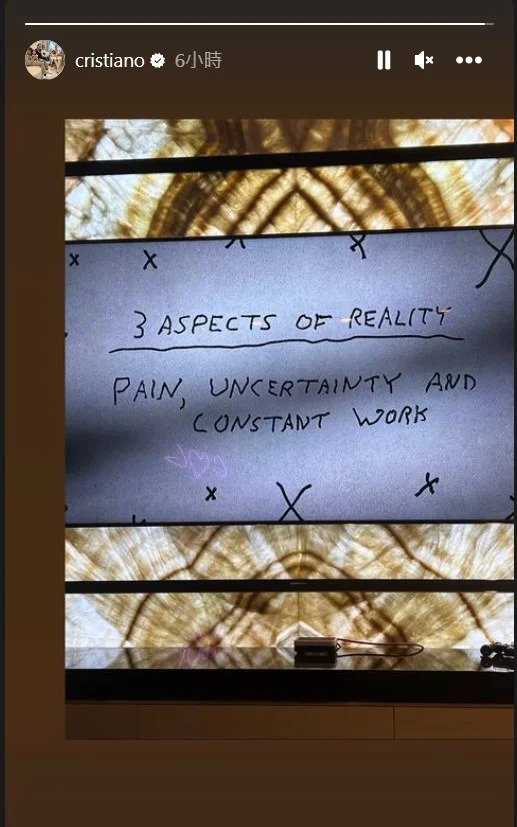 After Portugal's defeat, Ronaldo posted a speech about his 5 World Cup challenges, and then posted a dynamic on the same social media. The picture wrote 3 levels of life: pain, uncertainty and constant work.
Ronaldo has participated in 5 consecutive World Cups, but it is a pity that Ronaldo failed to fulfill his dream and represent Portugal to win the World Cup. In the news posted by Ronaldo, the pain may represent his current situation. Ronaldo is 37 years old this year, and will be 41 years old in four years. It is still uncertain whether he can play in the World Cup. Therefore, it is a lifelong regret not to be able to win the World Cup in Qatar this year.
However, the uncertainty should mean that Ronaldo does not know where to go in his next football career. Before the start of the World Cup, Ronaldo had already quarreled with Manchester United and left Manchester United. Originally, the Saudi Arabian team offered 200 million euros and a two-and-a-half-year contract to Ronaldo, but he did not accept the invitation. However, there is no rumor that any club has issued a contract to Ronaldo. In addition, Ronaldo's performance in this World Cup is not very ideal.
The only thing that can reassure fans is the constant work in the news, which means that Ronaldo has not yet quit football. In an interview with Morgan, Ronaldo once expressed his desire to play until the age of 40. Therefore, Ronaldo will not regret that he has retired. Maybe he will sign a contract with other clubs and continue to show his skills on the court.
Indian irrational fans smash Ronaldo figure card
After Portugal was defeated by Morocco, a video circulated on the Internet. It was some Indian fans who were angry because Portugal lost. While we understand that fans are outraged when their team loses, such behavior is extreme.