Scaloni says football is not just a sport in Argentina and wants the game to develop in their own way
2022-12-18 17:08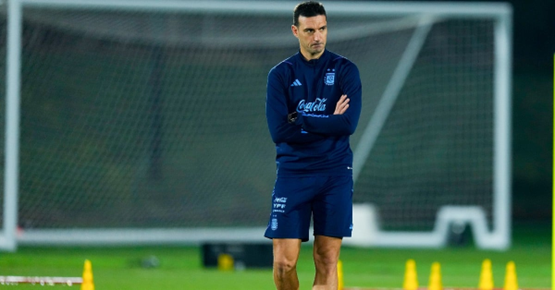 Argentina is about to face France in the World Cup final, and Argentine national team coach Scaloni attended the pre-match press conference.
Scaloni expressed his apologies to the fans for not being able to buy tickets, it was out of their control. If the fans can come, he will be very happy. The capacity of the stadium is limited, so it is great to be able to come. He hopes that most of them can come and have some fun. Football is a sport, although it may be difficult for others to understand, but football is not just a sport in Argentina. For them, it's exciting that the Argentine people are having fun during the World Cup.
Scaloni also said that from the day they took office, their idea is that the Argentine national team belongs to everyone, and everyone should have the opportunity to wear this jersey, and then they will decide whether the players have the corresponding level. The most important achievement is that they have put together a good team in four years who can die for this jersey.
Scaloni said that as the head coach of the Argentine national team, he is in a position that any Argentine wants to be in. He's proud and excited for the moment they're in, they're on the doorstep of the World Cup final, but it's important to get there, to be with this great team that they have, and to be able to share it with the family as well.
Regarding being criticized due to his inexperience, Scaloni said that this is normal. With a national team like Argentina, everything is magnified and it doesn't bother him.
Scaloni also talked about Argentina 's game plan. He said that they know how to attack the opponent, know the opponent's strengths, and set obstacles for the opponent. They try not to drag it to a penalty shootout. If they have to take a penalty kick, they will choose the best candidate. The way they play against France will be the way they think they can do the most damage to their opponents. They need to know where they can hurt their opponents, and they can't just play with the idea of winning the game. He feels that there are many places that need to be analyzed.
Regarding the final against France , Scaloni said that France has rich changes in every area of the field and can control the ball, because there are players with good footwork. If France counterattacks, it will be fatal. Tomorrow is Argentina vs France, not Messi vs Mbappe and they want it to go their way.