Son Heung-min burst into tears after confirming that South Korea was promoted, and also said that everyone did a good job
2022-12-03 12:19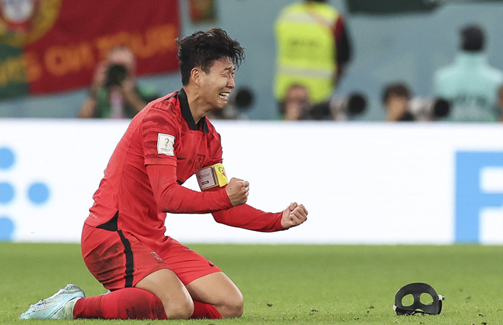 South Korea reversed Portugal 2-1 in the final round of the World Cup group stage and advanced to the round of 16 as the second in the group .
After South Korea 's 2-3 loss to Ghana in the last game , it is unclear how strong they will be. Son Heung-min was also violently attacked by Korean netizens. However, he performed well in this game, scoring a game-high 7.9 points.
South Korea's game ended 10 minutes earlier , and the whole team waited for the result of another match between Uruguay and Ghana. Uruguay failed to score the third goal . Son Heung-min burst into tears after knowing the result of the Uruguay match and confirming that South Korea had advanced.
After the game, Son Heung-min sent a celebration picture on social media with the text: "We did not give up, and you did not give up on us, South Korea! I love you!"
Son Heung-min said in an interview after the game that they had expected this to be a very difficult game. It was really difficult, but the players did not give up. They have been working hard. Everyone has done a good job. He is also proud of his teammates.
Son Heung-min said that their goal is to advance to the top 16. Now that they have achieved it, they also have a higher goal and will do their best to achieve the new goal. Nobody knows what's going to happen next second in football and if they play against Brazil they will try their best to prepare to play their best game.
Regarding his tears, Son Heung-min said that they were tears of happiness. They've waited a long time for this moment, and they believe so much that they can do it. Son Heung-min said that he did not do his best sometimes, so he is very grateful to his teammates for protecting him when he failed to perform his duties, and he is proud of them.
South Korea is the third Asian team to advance to the top 16 of this World Cup after Australia and Japan . This is the first time in history that three AFC teams have advanced to the top 16 of the World Cup .