Tearful Luton Town manager Rob Edwards emotionally dedicates promotion play-off final victory to captain Tom Lockyer who collapsed during the match..
2023-05-28 15:36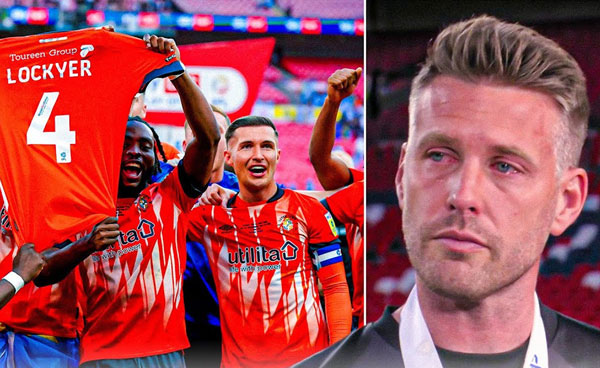 Luton Town's meritorious Welsh manager Rob Edwards broke down and said in an interview with Sky Sports after successfully helping the club win the 2022/23 season's EFL Championship play-off finals that he had no intention of celebrating his side's promotion to the Premier League as his thoughts had been with club captain, Tom Lockyer who unfortunately collapsed to the ground during the match.
Edwards was interviewed by the host and pundits of Sky Sports after the game, and when asked how he felt about successfully winning the final and won promotion to the Premier League, where he said emotionally: "It feels great, but to be honest, the only thing on my mind right now is Tom Lockyer."
"His (contribution) has been really great for us this season, health is the most important thing in life, family is the most important thing in life, more than football or anything else, what you just said, it's a great feeling to win the match, but I really don't have the mind to think about it right now until he (Lockyer) is really okay."
"A couple of guys on the team just talked to me, Carl (-ton Morris, centre-forward) just talked to me, he's very close to Lockyer, they just had a talk over the phone, which is obviously a very good thing, and that's where my mind is right now."
"I don't know how to interpret how I feel right now (correctly). I just feel like it's wrong to celebrate (this achievement) at the moment. At that time, all I felt was very emotional, that's all."
When the host asked Edwards if he had anything to talk about his opponent Coventry City, Edwards said generously: "I want to give Mark Robin (Coventry City manager) and Coventry a huge credit."
"I feel sorry for their situation, I understand what they have been through and what he has done for the club has been amazing, there is no doubt about it."
"It was a tight game, we went through three stages and we couldn't tell the difference, we had to go to the penalty shootout, as I said, he deserves credit for what he did, I think I may not be able to do it myself (to stand up again from complete disappointment). I firmly believe that they will stand back up very strongly. They have a very good fan base and they are also a very amazing club. I know, today people just know it's time to congratulate us, but really I feel sorry for their situation."
Finally, when asked how he felt about his players, Edwards said modestly: "I am very proud of my players, especially Lockyer, he is our best player this season, his contribution for us is immense."
"To go through something like this in just after a few minutes of playing such an important game, Reece Burke had to be substituted on early in the game, and it took instant sobriety from such a heartbreaking moment to accept that the captain had to be substituted like this. It wasn't easy going off and they dealt with such an emotional moment very strongly. I must say after that, especially in the first half, their performances were really good."
About Luton Town
Luton Town is the first and only club in English football history to successfully win promtoion from the non-league all the way to the Premier League.
The Hatters was relegated from the EFL Championship to the English Non-League back-to-back due to financial problems between 2007 and 2009, and was even deducted 30-points in the non-league, before successfully ending their 5-years of decline by winning promotion back to the EFL League Two in the 2013/14 season.
Later, in 2018 and 2019, Luton Town completed back-to-back promotion and returned to the EFL Championship. Over the years, they have gradually improved from a relegation-battling club to a championship-chasing club. What is even more admirable is that they were able to achieve such an achievement by operating with a small budget.
About Tom Lockyer
The 28-year-old Tom Lockyer was born in Cardiff, Wales on December 3, 1994. He is 1.85 meters tall and primarily plays as a center-back, but he can also play as a right back or defensive midfielder. He is an active Wales international player.
Lockyer joined the Cardiff City youth academy at the age of 11, and later moved to the Bristol Rovers youth academy in the summer of 2011, and completed his first-team debut in January 2013.
In his 6-year spell with Bristol Rovers, Lockyer won the English Conference Premier League promotion play-offs once with the club, and also won promotion to the EFL League One with the club once.
In the summer of 2019, Lockyer moved to Charlton Athletic as a free agent after his contract expired. However, after the club was relegated the following year, Lockyer chose to activate his release clause and left the club.
After leaving Charlton Athletic, Lockyer joined Luton Town as a free agent in the summer of 2020.
This season, Lockyer has played 46 times in all competitions for the EFL Championship promotion play-off winners, scoring 5 goals and assisting 1 time.
About Rob Edwards
The 40-year-old Rob Edwards was born in Telford, England on December 25, 1982. He is 1.85 meters tall. He played as a center-back during his playing career and played for Aston Villa, Wolverhampton Wanderers, Blackpool, Barnsley and other clubs, he also used to be a Wales international player.
After retiring in October 2013, Edwards began to be active in English football as a coach. He once served as the manager of Telford United and the England U16s national team.
Last season, Edwards was appointed as the manager of the Forest Green Rovers and successfully led the club to win the EFL League Two and be promoted to the EFL League One for the first time in the club's history.
Last summer, Edwards was appointed as the Watford head coach, but due to poor results, he was sacked at the end of September 2022. In November of the same year, Edwards succeeded Nathan Jones as Luton Town manager.
It is worth mentioning that after successfully leading the club to win the EFL Championship promotion play-offs, Edwards has also become one of the few managers in English football who has led two different clubs to promotion for two consecutive seasons.