Vinicius: Brazil is such a happy nation, so it will always annoy some people
2022-12-09 15:17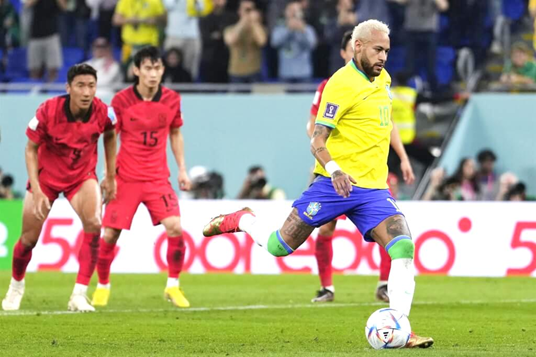 Brazil defeated South Korea 4-1 in the World Cup 1/8 finals . Brazil's practice of dancing and celebrating goals in games has caused much controversy. Manchester United star Roy Keane bluntly said on the show that he thinks it is very disrespectful for Brazil to dance and celebrate every time they score.
Brazil will next play against Croatia. Brazilian striker Vinicius responded to this at the pre-match press conference. He said that some people always like to complain when they see others happy, but Brazil is such a happy nation, so Will always annoy some people. In football, scoring is the most important moment, and in the World Cup, scoring is not only a happy moment for the players, it is also a happy moment for the whole country.
Vinicius said that they still have a lot of celebrations prepared, so they must continue to be in good shape, keep winning games, and be happy in the process. What they need to do now is to stay calm and focused, because there are far more supporters than opponents.
North Korea rarely broadcasts South Korean games
On the other hand, North Korea's Central Television broadcast the South Korean team 's 4-1 loss to Brazil in the knockout round of the World Cup on Wednesday , and for the first time mentioned Son Heung-min who brought him into battle.
According to Yonhap News Agency, the North Korean commentator introduced the South Korean team's lineup in detail before the opening, and broadcast the scene of Son Heung-min and Brazil's Thiago Silva shaking hands and talking.
Yonhap News Agency stated that it is very rare for North Korea to broadcast the South Korean team's game and introduce the South Korean national team in detail. North Korean TV previously referred to the South Korean team as "one team" and did not broadcast the South Korean team's games, and blocked the Taegeuk or South Korean auto company advertisements when broadcasting other games. Brazil's 100 -minute game did not cut out the car commercials.